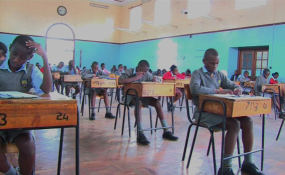 Photo: Capital FM
Preparations for the Kenya Certificate of Primary Education (KCPE) exam in Meru, Isiolo and Laikipia counties have been finalised after examination materials arrived on Saturday.
Meru County Commissioner Wilfred Nyagwanga said enough measures had been put in place to ensure the national examinations go on well in the more than 1,300 centres.
Mr Nyagwanga noted that all KCPE materials for Meru County had been delivered to the sub-counties on Saturday afternoon.
"One or two police officers will be deployed in every school depending on the number of pupils in that institution," he said.
FREE OF MALPRACTICES
Earlier, administrators, education and security officials in the county vowed to ensure the examination was free of malpractices, just like last year.
This was resolved as it emerged that one teacher was interdicted in Meru for attempting to open examination papers before the set time last year. "School heads who do not collect examination papers in time will be disciplined. We are keen on sealing all loopholes that lead to irregularities," Teachers Service Commission director Agnetta Kitheka said.
Meru County Examinations Officer Alex Ndereba warned deputy county commissioners against delegating their roles as custodians of the sub-county examination container keys.
County Director of Education Salome Maina noted that any irregularity reported during the examinations will be traced back to all officials involved in management of centres.
PREPARATIONS
In Isiolo, County Commissioner George Natembeya said preparations for KCPE have been completed ahead of today's rehearsals.
Mr Natembeya said six containers have been placed across the county for storage of exam materials, adding that security arrangements have also been finalised. "We have deployed police officers to escort the materials, he added.
In Laikipia, education and security officials are upbeat that the examinations will begin without hitches. The officials said the materials have been dispatched in the three sub-counties and no major challenges are expected even in Laikipia North where leaning was affected last term by insecurity. Area police commander Joel Otii said security has improved in four zones that were early this year declared dangerous following invasion by armed herders. "We expect the exams to proceed in all the centres uninterrupted. The heavy rains experienced last week have subsided and we expect easy delivery of materials," said Mr Otii on phone
Reports by Isabel Githae, David Muchui, Vivian Jebet and Mwangi Ndirangu