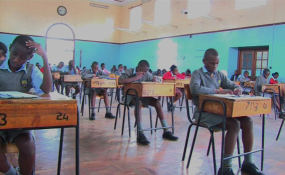 Photo: Capital FM
Candidates in Nyanza will sit their primary school examinations despite the political uncertainty following postponement of the presidential election.
In Siaya, 24,809 candidates are expected to sit the Kenya Certificate of Primary Education tests.
The three-day examinations begin tomorrow.
Siaya County Director of Education Kituyi Masibo said 12,584 candidates were girls while 12,225 were boys.
"There are 24,809 candidates, up from the 21,570 in 2016. The county has 682 KCPE centres," Mr Masibo said.
SECURITY
He added that a significant number of police officers had been deployed to provide security to candidates, education officials and examination materials.
"We have engaged invigilators and supervisors on ways to minimise irregularities," Mr Masibo said.
In Kisumu, a union appealed to the Independent Electoral and Boundaries Commission to cancel the repeat presidential election in the four Nyanza counties.
Kenya Union of Post Primary Education Teachers branch executive secretary Zablon Awange said a forced poll could lead to chaos and interference in the management of the examination.
ELECTION
"Conducting an election at this time could jeopardise the lives of teachers and pupils and compromise the credibility of the tests," Mr Awange said on Sunday.
"Any move by the electoral commission will positively or negatively affect the examination among Nyanza residents who have expressed opposition to the election."
In Homa Bay and Kisumu, some candidates were injured during the anti-election demonstrations.
Seventeen-year-old Titus Owuor will sit the examination at Homa Bay Referral Hospital. He was shot in the chest on Friday in Sindo town, Suba South Constituency.
BULLET
The Baptist Academy pupil said he was in his parents' compound when the bullet hit him.
"Police were chasing protesters next to our house when I felt pain in my chest," said Owuor.
According to county director of medical services Kevin Osuri, the boy will undergo a delicate operation to remove the bullet at Moi Teaching and Referral Hospital, Eldoret.
"The bullet lodged nearly ruptured his heart. He is expected to undergo a specialised operation," Dr Osuri said.
CONDEMNED
Meanwhile, Mr Awange condemned Medicross and Bliss hospitals in Kisumu County, which were contracted to treat teachers and their dependants, for closing down during the election period.
He called on AON Minet -- the insurance provider -- not to renew its contract with the two hospitals, accusing them of denying teachers service in their hour of need.
"Some teachers and their families were victims of the police brutality and they cannot access the hospitals for treatment. It is obnoxious, unfortunate and enhances the profiling of Kisumu County residents," he said.
Reports by Nelcon Odhiambo, Victor Raballa and Barack Oduor