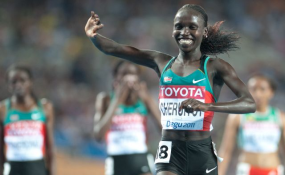 Photo: Erik van Leeuwen
By Ayumba Ayodi
Rio Olympics 5,000m champion Vivian Cheruiyot will leave no room for mistakes as she plans to attack her personal best and course record on Sunday during the Frankfurt Marathon in Germany.
Cheruiyot said that she intends to use her experience from her maiden marathon race in London on April 23 where she clocked 2 hours, 23 minutes and 50 seconds for fast times in the German city.
Cheruiyot, the Rio Olympics 10,000m silver medallist, finished sixth in London where compatriot Mary Keitany won the race in a women's only world marathon record breaking time of 2:17:01.
"I let the leaders open the gap after the half way mark in London. I thought I would bridge the gap as the race progressed but I couldn't since it was a fast field," said Cheruiyot, adding that London was a good experience since it helped her plan for the next race well. "I had to slow down after Keitany opened up a wide gap but I won't let that mistake happen in Frankfurt."
Cheruiyot, 34, said that even though she intends to run her own race, hard work will be imperative if she intends to lower her personal best from London.
"I have a PB of 2:23 and my top opponent Feyse (Tadese) from Ethiopia has run 2:20:27 before but that doesn't bother me at all since we shall be facing similar conditions," said Cheruiyot, the 2011 Daegu World 5,000m and 10,000m champion.
Cheruiyot's coach Kiplagat Kurui said the athlete has had three good months of preparations, having not let her legs off the gas pedal since London.
"I have no doubt she can break the course record depending on the weather," said Kurui. "We have trained well since London and the field in Frankfurt looks favourable."
Kurui said Cheruiyot now knows that running a marathon is different from 10,000m on track. "London was pretty interesting for her. Marathons are longer and need patience," said Kurui, adding that Cheruiyot is targeting to cover the first half in 70 minutes and the final phase in less than that. "We are targeting sub 2:20."
So far no woman has gone below the 2:20 barrier in Frankfurt. The current five-year course record from Ethiopia's Meselech Melkamu stands at 2:21:01 from 2012.
Although there are five women in the race with personal bests that are faster than Cheruiyot's, the Olympic Champion's trainer is not worried.
"Cheruiyot has been there and done it and Frankfurt is just part of that progress hence no need to fear," said Kurui. "I don't know the kind of shape her rivals are in but she will just run her own race."
Cheruiyot showed fine form in September when she clocked a personal half marathon best of 67 minutes and 44 seconds at the Great North Run, finishing second to Keitany.
Cheruiyot's main challenger Tadese set a personal best of 2:20:27 at 2014 Berlin where she finished second, nine seconds behind compatriot Tirfi Tsegaye.
Besides Tadese, Yebrgual Melese of Ethiopia also poses a threat, having won the 2015 Houston and Prague marathons. Melese finished second at 2015 Chicago Marathon.
The 2014 Commonwealth Games silver medallist Caroline Kilel is the last Kenyan woman to win in Frankfurt in 2013, having also reigned supreme on the same course in 2010.
The men's race will be another epic battle between defending champion Mark Korir and Martin Kosgey, who finished second last year.
Korir, who is targeting to improve his personal best of 2:04:49 from 2015 Paris, warmed up for Frankfurt with a third place finish in 2:06:05 at Seoul in March. Korir represented Kenya at the 2015 Beijing World Championships marathon, finishing 22nd.
Kosgey set his PB last year when he finished second in 2:07:22 behind Korir in Frankfurt.
The Field
MEN
Getu Feleke, ETH, 2:04:50
Mark Korir, KEN, 2:05:49
Martin Kosgey, KEN, 2:07:22
Shure Kitata Tola, ETH, 2:07:28
Kelkile Gezahegn, ETH, 2:07:29
Henryk Szost, POL, 2:07:39
Arne Gabius, GER, 2:08:33
Mark Lokwanamoi, KEN, 2:08:39
Afewerk Mesfin, ETH, 2:09:49
Raymond Chemungor, KEN, 2:10:06
Jared Shegumo, POL, 2:10:34
Abdelhadi El Hachimi, BEL, 2:10:35
William Ngelel, KEN, 2:10:50
Artur Kozlowski, POL, 2:10:58
WOMEN
Feyse Tadese, ETH, 2:20:27
Yebrgual Melese, ETH, 2:22:51
Merima Mohammed, BRN, 2:23:06
Guteni Shone, ETH, 2:23:32
Abebech Afework, ETH, 2:23:33
Vivian Cheruiyot, KEN, 2:23:50
Meskerem Assefa, ETH, 2:24:18
Fate Tola, GER, 2:25:14
Sara Hall, USA, 2:28:26
Katharina Heinig, GER, 2:28:34.