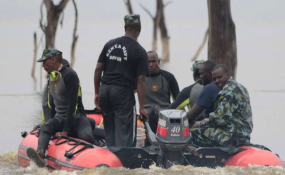 Photo: Ayub Muiyuro/Daily Nation
By Magdalene Wanja
The search team in the Lake Nakuru chopper crash recovery mission on Friday received reinforcement as the operation entered the seventh day.
The team leaders and Nakuru Governor Lee Kinyanjui said the search will go on to retrieve the three missing bodies.
The reinforcement included divers from the Kenya Navy and four boats.
Only two bodies and fragmented parts of the aircraft have been recovered so far.
"We now have eight boats from both the Kenya Navy and Lake Naivasha," Lake Nakuru National Park senior warden Samuel Tokore said.
CHALLENGES
More than 40 divers have also joined the recovery team, which has been working throughout the week.
National Disaster Operation Centre desk officer Jonathan Kertich on Friday said poor visibility of the water and salinity are major challenges.
He said the team was not going to give up until they accomplish the operation.
"We are still hopeful that we shall recover the bodies," he said, adding that the teams were working harmoniously.
The search was called off at 6pm and will resume Saturday morning.
RESPONSE PLAN
Governor Kinyanjui said his administration will develop a comprehensive emergency response mechanism.
"We expect better response in future, we shall work with the Kenya Wildlife Service to come up with a better package so that we are able to do better," he said.
The number of people visiting the 'recovery' camp has been declining.
Earlier in the week, Kenya Wildlife Service rangers had a difficult time controlling the high number of people who wanted to access the park.