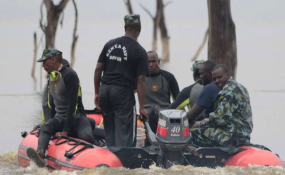 Photo: Ayub Muiyuro/Daily Nation
By Magdalene Wanja
An inter-denominational prayer service was on Sunday held on the shores of Lake Nakuru, as an intensified search went on for three bodies of the victims of a helicopter crash that occurred a week ago.
The service was led by Apostle Sammy Ngaho and those who attended included local leaders and administrators.
Some of them were Rift Valley regional coordinator Wanyama Musiambo, Nakuru Senator Susan Kihika and Nakuru Town East MP David Gikaria.
The cleric assured families of the victims that the search, which enters its 10th day today, will yield results.
"You will not search anymore because you have found the right path. God is the owner of all creation and has power to command everything. He will lead the recovery team to where the bodies are trapped," said Mr Ngaho.
REINFORCEMENT
The leaders also promised to continue supporting the recovery team until the bodies are retrieved.
At the same time, the search team received reinforcement and more recovery equipment.
A team of five divers and two paramedics from Bomet County's Disaster Management Unit joined the search mission on Sunday morning.
The recovery operation involves personnel from both the national and county governments.
The National Police Service, the Kenya Wildlife Service, and divers from the Kenya Navy, Kenya Red Cross Society, Nairobi Governor Mike Sonko's rescue team and Lake Naivasha, and the local community and relatives of the victims are involved in the efforts.
GEOLOGISTS
At the weekend, a team of geologists from the Mining ministry joined the recovery operation and brought a magnetometer that is expected to help in locating the helicopter wreckage and the three bodies.
The recovery team started using the machine on Sunday.
"We are using all the equipment we have and we believe they will help in our mission," said one of the geologists.
A magnetometer detects any metallic object in water.
According to the divers involved in the search, the efforts have been hindered by huge silt and mud in the lake.
SEARCH
Heavy rains in the region have been disrupting the search.
The Nation learnt that scanning equipment brought three days ago works best in deep waters as opposed to the shallow lake.
This, according to the geologists, limits the area covered by the equipment.
Mr Musiambo, who spoke during the prayer service on Sunday, said the recovery team will not leave the site until the remaining bodies and helicopter wreckage are retrieved.
RETRIEVED BODIES
Ms Kihika, who lost three members of her communication team in the crash, on Sunday described them as sharp and hardworking youngsters.
"We have been praying that the remaining bodies be recovered. Even when we see the rains, we have been asking God to hold them so that we can search more and retrieve the bodies," said the senator.
The body of the pilot, Mr Apollo Malowa, and that of Mr Anthony Kipyegon were retrieved on Monday.
Those of Mr Sam Gitau, Mr John Mapozi and Ms Veronicah Muthoni are yet to be found.