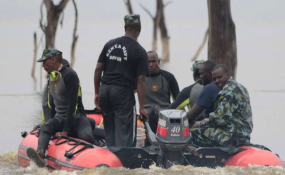 Photo: Ayub Muiyuro/Daily Nation
By Magdalene Wanja and Joseph Openda
An interdenominational prayer service will be held at Lake Nakuru on Sunday amid desperation for the recovery of three passengers of the helicopter that crashed in the lake last Saturday.
Nakuru Governor Lee Kinyanjui and Rift Valley Regional Coordinator Wanyama Musiambo promised families of the victims that the search, which entered its eighth day on Saturday, will go on.
Even as the search team was given reinforcement, Mr Musiambo said the team leaders had decided to seek divine intervention.
DIVERS
Mr Musiambo said several churches had confirmed their attendance.
Eight boats and more than 40 divers are taking part in the search and recovery operation.
"On top of that we have decided to seek for spiritual intervention and we shall be holding an interdenominational service on Sunday at the shores of the lake," he said on Saturday.
PASSENGERS
He said with the added equipment and workers, there was hope that the mission would yield fruits.
The aircraft crashed early Saturday morning.
Aboard were five passengers: three were members of Nakuru Senator Susan Kihika's media team.
A team from the Ministry of Mining joined the endeavours.
CAMPAIGN
On Saturday, Ms Kihika spent time condoling with the families of the victims.
"They worked very hard for my campaign until the last minute. Sometimes we went for a whole day without a meal but none of them complained," she said of her team.
Counsellors at the recovery centre said some of their 'patients' are responding well.