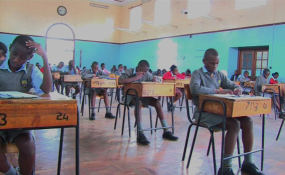 Photo: Capital FM
By Mohamed Ahmed
An empty desk at the back of a classroom is the only memory of a Kenya Certificate of Primary Education (KCPE) candidate that lingers in the eyes of his colleagues in a Mombasa school.
Jumaan Hamisi, 16, who was expected to have joined fellow pupils in their rehearsals for the national exams was killed in what the family said was a mistaken identity.
Hamisi's desk at Makupa Primary remained unattended as teachers and invigilators led the 80 pupils in preparing for their final exams starting today.
Hamisi index number 23, was among the 81 pupils who were to sit for their exams at the public school in Mvita constituency.
ROBBERY ATTEMPT
Hamisi was lynched by a mob in the notorious Kisauni constituency on October 15 after he tried to snatch a phone from a passer-by at Swalihina, according to police.
Kisauni OCPD Christopher Rotich said: "He was with other four people who escaped after the attempted robbery."
However, her aunt Uwani Salim said he was killed after he was mistaken of being a thief.
"I feel pain when I talk of him. He would have today joined others for the rehearsals. He was coming from a rally when the theft incident happened. As he tried to escape people mistook him with the suspected thief and killed him," said Ms Salim.
"Only God knows better but I am the one who brought him up and I can tell you the kind of a person he was," she added.
At the school, the headmaster Alex Mkula said Hamisi did not show any suspicious signs.
'HARDWORKING'
He said the boy who was a good footballer was among supportive pupils at school and further termed him as a hardworking boy.
"In school he was quiet and did not arose any suspicion of being a thief. If he had any we would have known as we interact with the learners more than their parent do," said Mr Mkula.
The schools board of management chairman John Walele called on the police to divulge information over the matter to the family and school saying the incident left them in shock.
Mr Walele said the boy's killers should be arrested and answer for the death.
"We have lost a candidate under unclear circumstances because none of us is in the know on what exactly happened that led to his death," said Mr Walele.
Hamisi was buried a day after he was killed in Mombasa.