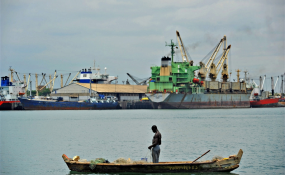 Photo: Daniel Hayduk/IRIN
By Eugene Agha
Lagos — In a bid to check the rising cases of piracy attacks at the Gulf of Guinea, the Federal Government said it has concluded plans to contract the services of an Israel security firm to patrol the nation's waterways.
It revealed that the firm would also train members of the Nigerian Armed Forces, particularly the Navy on how best to police the country's waters effectively.
Transport Minister, Rotimi Amaechi, who made this disclosure yesterday at the 2017 World Maritime Day Celebration held in Lagos, also explained that a consulting firm had been contracted to do a comprehensive study of the country's maritime environment.
The International Maritime Organization usually set aside a day in the third quarter of the year to mark the World Maritime Day. The theme of this year's celebration is 'Connecting Ships, Ports and People.'
Addressing media men after his keynote address, the minster stated that by the time the contract was finalized, the Israeli security company would be seen patrolling Nigerian waters.
He explained that the firm would perform the function of protecting the ocean and seas in the next three years, and that this would be aside the training programme it would give to some Nigerian soldiers.
"Security is a major challenge globally especially in the Gulf of Guinea. There have been major concerns and developments to address the issues of maritime security along the Gulf of Guinea. Various initiatives, actions, programmes and centres/organization have been developed and established to counter this insecurity," he said.
In his goodwill message, the Chairman Senate Committee on Marine Transport, Sen. Hamed Rufai Sani, said that the upper legislative chamber had been working harmoniously with the Ministry of Transport and its agencies, and this had contributed immensely to the progress so far achieved in the area of security.