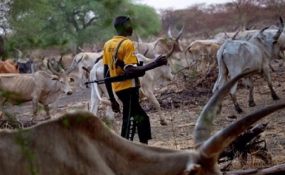 Photo: Daily Trust
By Ahmed Tahir Ajobe
Minna — Violent clashes between farmers and herders have claimed over 2500 lives in four states of Kaduna, Benue, Plateau and Nasarawa within one year, former head of state General Abdulsalami Abubakar has said.
Speaking at a one-day forum on farmers, herders clash organised by the Search for Common Ground in his farm yesterday in Minna, the former head of state also said over 62, 000 people were displaced, while the country lost $13.7 billion to the clashes between farmers and herders in the affected states within the period.
He also said that the four states lost up to 47 percent of their internally generated revenue averagely.
"With respect to economic impact, the federal government lost $13.7 billion annually as a result of farmer/herder conflicts in Benue, Kaduna, Nasarawa and Plateau states," he said, adding, "It has been estimated that about 2,500 persons were killed nationwide in 2016."
He said there was a breakdown of communal conflict resolution mechanisms and the conflicts had become deadly.
He said the widespread conflicts were wake up calls to all "relevant stakeholders, states and federal government, legislatures, traditional rulers, civil society organizations, security agencies and communities on the need to address the deadly conflicts which he said were expanding gradually to other states in the federation.
"The current situation is threatening the fragile peace of the nation," he asserted.
He commended the Search for Common Ground for its initiative and for collaborating with the General Abdulsalami Abubakar Institute for Peace and Sustainable Development Studies, expressing optimism that the Forum would recommend sustainable solutions to farmers/herders clashes in the country.