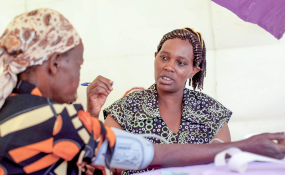 Photo: The Newmark Group
By Deus Ngowi
Arusha — HYPERTENSION is a persistent illness that affects the lives of about one billion people worldwide. Hypertension, a nearly symptomless disease, damages blood vessels and organs and often causes a myriad of ailments including serious cardiovascular complications.
Although some studies have suggested that high intake of meat, particularly red meat, might contribute to development of hypertension, data on the prospective associations between meat intake and risk of hypertension are still limited.
That is why some academics are in the quest of establishing the relation between red meat and bush meat on one side and hypertension and other diseases.
Results of the studies are to be used to develop focused and targeted policies and programmes for prevention, control and management of hypertension, hyperlipidaemia and suggest ways to mitigate them. In some clinical studies, red meat has been found to increase blood pressure and is linked with hypertension.
Trimethylamine- Noxide (TMAO), a compound produced mainly from the metabolism of red meat by intestinal microbiota, has been linked to cardiovascular disease.
Careful review of current literature and recent findings suggests that TMAO could be the hypertensive component of red meat. A review was set to provide a novel insight into the mechanism by which TMAO may induce hypertension.
We will be coming back to that later anyway. The research is carried out across East to West Africa, under Afrique One-African Science Partnership for Intervention Research Excellence (ASPIRE), with Maasai communities at its heart.
Ms Ester Diarz from the National Institute of Medical Research (NIMR)- Muhimbili Medical Research Centre-says her seven-man team is exploring the role of red meat consumption in the emergence of hypertension and hyperlipidaemia among Maasai pastoralists in Tanzania.
"Red meat consumption is a major dietary risk factor for hyperlipidaemia and hypertension. In 2010 meta-analysis, the relationship between meat consumption and the emergence of these conditions was shown to vary depending on the amount consumed and the extent of processing of the meat product.
The Maasai have unique cultural practices and lifestyles influencing their diet that consists almost of milk, meat and blood. Few studies have assessed hyperlipidaemia and hypertension among the Maasai using standard methods," said Diarz.
The researcher said that the team would determine the burden of the two conditions in rural settlements of the Maasai and develop a model of predicting the risk among the communities in Ngorongoro District.
The centre of concentration would be Endulen ward - the objective being to calculate the association of hyperlipidaemia and hypertension and the demographic characteristics.
On hypertension as associated with red meat consumption in Ivory Coast, a team of five researchers, led by Ms Therese Gboko, is seeking to come up with nutritional recommendations that would be integrated into national programme for hypertension prevention and control through alternative interventions.
Ms Gboko says that in many developing countries, emergence of hypertension is closely linked to major changes in lifestyles and diet, including a shift towards Western type of diet rich in animal source food and processed red meat.
The academician from the Centre Suisse de Recherché Scientifiques en Cote d'Ivoire, notes that there is evidence from that high intakes of processed and unprocessed red meat are consistently associated with increased risk of hypertension.
There is yet another focus in Tanzania and Ivory Coast alike, and this is on value chain of bush meat consumption and its role in nutrition and disease transmission in respective countries.
An eight-man team, led by Ms Arlette Dinde, is conducting the study. Bush meat or game meat that originates from wild animals is widely consumed in sub-Saharan Africa where the natural resource is overexploited.
"Bushmeat consumption is often associated with diseases such as Ebola Virus epidemic in West Africa. There's little information on mechanisms of the disease transmission through the bush meat chain.
We investigate the relevance of bush meat use for actors and identify sustainable alternatives. In addition we will develop a model of disease transmission within the bushmeat chain from contact networks," Dinde of the Universite Nangui Abrogoua of Abidjan said.
There will be also socioeconomic analysis on Non Communicable Diseases (NCDs) linked to meat consumption, such as braised meat with a ten-man team led by Mr Malik Seko from Senegal.
It has been found that NCDs are the most prominent causes of adult mortality, killing 38 million people each year and on the rise. Cancer, heart disease, diabetes and chronic respiratory diseases are responsible for 82 percent of NCD-related illnesses and deaths.
The four diseases, along with mental illness, are estimated to cost the developing world $21 trillion over the next two decades. Dietary studies have found that a compound, resveratrol, found in red wines, has been linked to reduced incidences of cardiovascular disease.
This explains how the French tradition of dining with red wine has helped their hearts. Hypertensive patients struggle to maintain their health every day and with so many conflicting diets claiming to improve wellness, it has become difficult for patients to take their health into their own hands," says Dr Felisha Gonzalez of the University of Illinois in the United States.
She says that the metabolization of Carnitine in red meat to TMAO has received publicity for its role in heart diseases and its potential role in hypertension. Reduction of red meat consumption may be a promising method for hypertensive patients to be able to manage their blood pressure and improve their health.