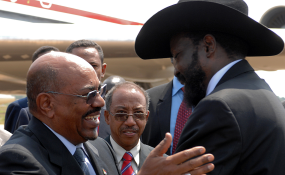 Photo: Isaac Billy/UN Photo
Khartoum — The Sudan and South Sudan on Monday agreed to work hand in hand for convincing the international community into writing off their joint foreign debts and to extend the zero option agreement that expires on October 2018.
Sudan's Minister for Finance and Economic Planning, Dr Mohamed Osman Al Rikabi who received his south Sudanese counterpart, Stephen Diu Daw that it was important to secure the support of the African union in handling the question of the joint foreign debts. The meeting was attended by the undersecretaries in the two ministries.
The Sudanese minister has meanwhile pledge to provide training and capacity building for staffers from the South Sudan ministry of Finance. He also said all due of former employees and pensioners who worked in the government bureaucracy prior to the separation of south Sudan from south Sudan would be settled.
The minister has meanwhile underlined the keenness of the government of the Sudan to strengthen further the relations between eh two countries saying Khartoum looks forwards to the coming visit by President Salva Kiir Maladroit to the Sudan in the coming two days.
He expressed hope that Sudan looks forwards to signing a number of agreement and to more confidence bundling and to better neighborhood relations between the two countries.
As the two sides have said they agreed to open the crossing point and to encourage trade, facilitate customs and banking procedures and ease people movement between the two countries as well as the smooth flow of commodities and goods to help better and reinforce relations between the two countries.