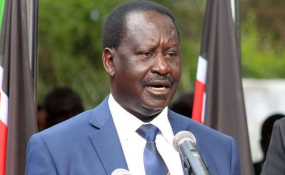 Photo: Dennis Onsongo/Daily Nation
By Eddy Kagera
Kenyans are waiting with bated breath as Nasa leader Raila Odinga is set to make a "grand" announcement on Tuesday morning.
Mr Odinga had promised to make his pronouncement on Monday but pushed it to Tuesday.
The SOUP has boiled... it will be served HOT tomorrow at 10:00am. Ukweli wa Mambo
- Philip Etale (@EtalePhilip) October 30, 2017
On Monday, the Independent Electoral and Boundaries Commission chairman Wafula Chebukati declared President Uhuru Kenyatta the winner of the October 26 election with 7,483,895 votes of the 7,616,217 valid votes cast.
Calculated against the 19,611,423 registered voters, turnout was 38.84 per cent.
President Kenyatta had 8,203,290 votes in the August election, 719,395 more than in last week's poll.
Mr Odinga had pulled out of the poll and urged Kenyans not to participate saying there needed to be a level playing field.
He has since dismissed it as a sham.
"We told people to stay at home and they heeded our call," he said.
LOST MANDATE
"The President and his deputy have lost the mandate to speak on behalf of Kenyans. They only speak for themselves."
He went on: "Our position is to carry out a credible election in 90 days. They are saying that Kenyans are tired of electioneering but I am telling them that the country is tired of their prevarication, of their refusal to have a proper election."
On the eve of the election, Mr Odinga said Nasa would morph into a resistance movement.
"From today we are transforming Nasa into a resistance movement, embark on a national campaign of defiance of illegitimate governmental authority and non-co-operation with all its organs and boycott the goods and services offered by the businesses for whose benefit dictatorship is being established," Mr Odinga said at a rally at Uhuru Park.