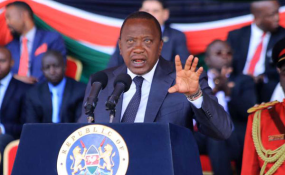 Photo: Daily Nation
By Patrick Lang'at
The electoral agency on Tuesday allowed presidential candidates, their agents and election observers to access servers and logs used in the October 26 repeat poll.
The access was only granted to parties who requested for information on election.
COURT LESSON
Access to servers and logs of people who accessed them were critical in the annulment of President Uhuru Kenyatta's August 8 win.
It was also one of the major reasons-- besides change of ballot paper printer and the polls technology provider-- that made Nasa leader Raila Odinga withdraw from the fresh poll.
Keen to avoid a second such occurrence, the Independent Electoral and Boundaries Commission (IEBC) has on its volition moved to open the servers, a day after declaring President Kenyatta validly elected for a second term.
"IEBC's contumacious disobedience of this court's order of 28th August, 2017 in critical areas leaves us with no option but to accept the petitioners' claims that either IEBC's IT system was infiltrated and compromised and the data therein interfered with or IEBC's officials themselves interfered with the data or simply refused to accept that it had bungled the whole transmission system and were unable to verify the data," the Supreme Court said in its 4-2 majority judgment, the first of such in Africa and the fourth in the world.
IEBC chairman Wafula Chebukati said that the commission will also make the access available to any other party that may want to access the servers.
"Today, the commission has granted presidential candidates, agents and observers access to the Results Transmission Server," the IEBC said in a tweet.