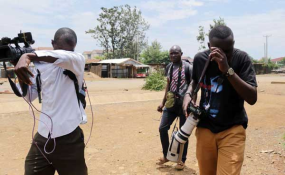 Photo: Tonny Omondi/The Nation
A group of local journalists were have been assaulted by goons during a meeting called by the National Super Alliance (Nasa) at the Wiper headquarters in Nairobi.
Citizen TV's Francis Gachuri and NTV's Jane Gatwiri were Tuesday afternoon roughed up in the melee.
ODM director of communication Philip Etale apologised over the incident.
"Dear colleagues, I must say here what I saw was unfortunate, barbaric and archaic. I have reported the matter to Hon Raila Odinga and he is not amused at all.
"A statement on the same will be released and the youths involved will be reprimanded. On behalf of Nasa I apologise for the attack on my brother Gachuri and sister Jane of NTV. I am very disturbed," he said.
NASA STATEMENT
Nasa later issued a statement condemning the attack and promised to investigate the matter.
"The National Super Alliance is deeply disturbed by an incident in which some youths attending its meeting at Wiper headquarters earlier today assaulted some reporters from local media houses," read the statement from Kathleen Openda, Nasa communications director.
"We wish to make it clear that the youth acted on their own and we condemn their actions in [the] strongest terms possible.
"We ask media houses that may have captured the said youth on video to provide them to the Coalition for investigation and action. The Coalition registers unreserved apology to reporters who fell victim to this unfortunate incident," Ms Openda said.
KUJ
Kenya Union of Journalists (KUJ) Secretary General Erick Oduor also condemned the attack and warned that journalists would in future stay away from such events.
"Kenya Union of Journalists condemns the attack on Citizen reporter Francis Gachuri by Nasa supporters. This acts of violence against journalists is not acceptable and [we] demand action against the perpetrators. If such acts do not stop, we will advise journalists to stay away from such events," he said.