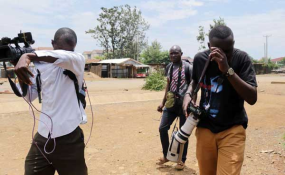 Photo: Tonny Omondi/The Nation
By Laban Wanambisi
Nairobi — Journalists covering a National Super Alliance Parliamentary Group meeting staged a walkout after three of their colleagues were attacked and assaulted by goons at the function.
The assailants attacked and roughed up Citizen Senior Political Reporter Francis Gachuri and also punched NTV camera lady Jane Gatwiri.
Before they attack, a group of young men repeatedly issued verbal warnings to the battery journalists as the singled out Citizen, NTV, KBC as being leaning towards the re-election of the President Uhuru Kenyatta.
Journalists rejected attempts by ODM Director of Communications Phillip Etale to reconsider their stand.