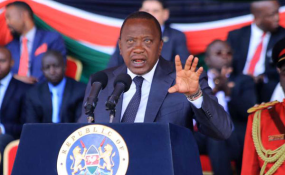 Photo: Daily Nation
By Kennedy Kimanthi
The Ameru Professionals lobby says a national dialogue to help the country heal from political divisions can only happen after President Uhuru Kenyatta is sworn in.
Land Cabinet Secretary Jacob Kaimenyi, who is the chairman of the forum, said such a discussion should also involve all critical players in the political, business and religious circles, including elders and the civil society.
"That can only happen when the president takes oath of office and therefore he will have full mandate of the country's leadership. The dialogue should be candid and constructive, focusing on the common good of all Kenyans," Prof Kaimenyi said.
He spoke on Tuesday at a press conference in Nairobi.
NO STATE JOBS
He was categorical that the national discussion on peace should not necessarily be held to distribute national government jobs or meet the political interests of individuals.
"Kenyans should feel that they will not be left behind in the next five years and beyond," he said.
The Ameru Professionals group, which draws its membership from Meru and Tharaka-Nithi counties, brings together experts and specialists in different fields.
Also in attendance was Prof Gitile Naituli, a commissioner with the National Cohesion and Integration Commission (NCIC) and Mr Linford Mutembei, the chairman of Mt Kenya Youth Caucus, a youth political lobby group.
Others were national government spokesman Eric Kiraithe and Mr Mwenda Makathimo, a lands expert with the Lands Development and Governance Institute (LDGI).
SECESSION CALLS
Prof Kaimenyi, who read a statement on their behalf, also dismissed calls for secession by some opposition leaders as well as the formation of a group by Nasa to lead in civil disobedience.
"Such moves are likely to lead to anarchy and chaos which is bad for the economy," he said.
On the just concluded repeat presidential election, they affirmed President Kenyatta's win, saying the electoral commission had carried out a credible poll despite the many challenges it faced.