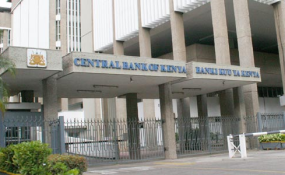 Photo: Business Daily
By Joseph Oduha
Kenya's central bank has instructed commercial banks to freeze accounts of six top South Sudanese generals in line with UN sanctions against them.
The UN Security Council imposed travel bans and asset freezes on the military commanders - three from each side - for human rights violations and blocking the implementation of the peace agreement in the war-torn country.
They include General Santino Deng, General Gabriel Jok Riak, and General Chanuong Yol Mangok from the government Sudan Peoples' Liberation Army (SPLA); and General James Koang, General Simon Gatwech Dual, and General Peter Gatdet from the opposition SPLA-In Opposition (SPLA-IO).
In a circular dated October 10, the Central Bank of Kenya (CBK) directed banks' chief executives to give a detailed report on accounts operated by the six generals as well as on assets they own or control directly or indirectly through other persons.
"Report to CBK by November 5, on steps taken to implement UNSCR 2206 of 2015 as read together with the successor resolutions UNSCR 2290 of 2016 and UNSCR 2353 of 2017," the banking regulator's directive said.
The UN sanctions were first imposed in 2015 and renewed in 2016 and 2017 to continue till May 31, 2018.
Kenyan banks have been cited in reports for allowing transactions of million of dollars looted from the war-torn country.
South Sudan government and opposition forces have been accused of corruption and profiteering from the war that erupted after a feud between President Salva Kiir and his former deputy Riek Machar in 2013.
The conflict has already claimed tens of thousands of lives and forced about 4 million people flee their homes.