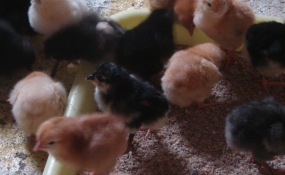 Photo: Melissa Britz/allAfrica.com
By Deogratius Kamagi
Dar es Salaam — Social media users have reacted angrily to the government destruction of 6,400 chicks, which were imported from Kenya through the Namanga border post in Longido District.
The chicks worth Sh12.5 million were owned by Arusha-based businesswomen Mary Matia, who is in police custody.
The chicks were burnt today by Ministry of Livestock and Fisheries officials and members of defence and security forces in the region.
Social media users argue that it would have been better if the chicks were returned to Kenya.
"It's unfair, at least the owner would have been fined and allowed to return them to Kenya," said Mr Ahmed Yahya, one of the social media users.
According to them, the government was supposed to test if the chicks were infected before destroying them.
"There is a need to revisit our laws, independent veterinarians should press for changes... these acts destroy our country' image," reacted Veri Magari.
Another concern was that Ms Matia had incurred a loss of Sh12.5 million.
"We never know if she borrowed the money. At her age of 23, she too young to lose such a substantial amount of money. They would have taken into consideration her explanation that she wasn't aware of the ban," commented Ms Christina Pantaleo.
Earlier, Northern Zone veterinarian Obedi Nyasebwa told The Citizen that the aim was to curb outbreaks of animal diseases such as bird flu.
The government banned chick importation in 2007.
"The chicks will be burned in accordance with Animal Diseases Act, 2003," he said.
Namanga Border Post Tanzania Revenue Authority assistant manager Edwin Iwato said the owner of the vehicle that carried the chicks would be fined.
Senior veterinarian Medard Tarimo said complaints about chick smuggling had been rife. "They are mostly smuggled at night hours, endangering the health of Tanzanians since we know avian influenza has broken out in neighbouring Uganda."