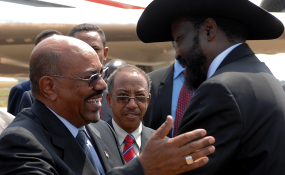 Photo: Isaac Billy/UN Photo
Khartoum — The President of State of South Sudan, Salva Kiir Mayardit, will arrive in Sudan, tomorrow, Wednesday, on a two- day official visit to the country during which he will hold official talks, at the Republican Palace with the President of the Republic,. Field Marshal, Omer Al-Basher.
President, Salva Kiir will meet, same day, at 7pm, at his resident, in Corinthia Hotel, the First Vice President and the National Prime Minister, General, Bakri Hassan Saleh.
President Al-Basher and Salva Kiir will, also meet, at the Republican Palace, on next, Thursday to hold joint press conference, besides, signing of agreements between the two countries.