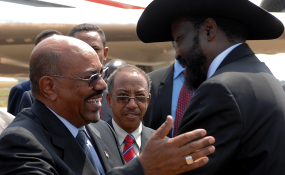 Photo: Isaac Billy/UN Photo
Khartoum — Presidency State Minister and the Chairman of the Sudanese side to the Joint Commission of Demarcation of Borders, Dr. Al-Rasheed Haroun has reviewed with his South Sudanese Counterpart, Michael Makwei issues pertinent to the demarcation of the joint borders and the preparations for the final report which will be submitted to the presidents of the two countries.
The minister, in a press statement following the meeting which held at the Republican Palace, has welcomed Salva Kiir's visit to the country , adding that it comes in the context of the two countries efforts to strengthen bilateral relations between the two countries via implementation of the joint cooperation agreements signed by them.
He affirmed that the two sides completed a number of documents, in this connection, during the joint meetings since 2014, referring to the agreement of the two countries to continue the joint meetings.
The minister emphasized that the joint Committee for Demarcation of Borders was directed to submit an integrated report, on borders description, within 6 month period, prior to starting the borders demarcation process.
Chairman of the South Sudanese Side said the meeting reviewed the pending issues and the report which will be presented to the two presidents during Salva Kiir visit to Sudan, describing the works of the joint commission as progressing well.