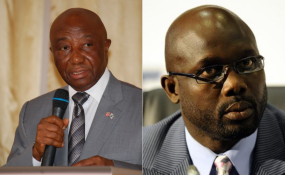 Photo: allafrica.com
Barely a week to the runoff presidential election here, the Standard Bearer of the Coalition for Democratic Change or CDC has been teasing Vice President Joseph N. Boakai of the ruling Unity party saying, he feels the pains his rival.
"I feel your pains, I too went through such pains during the 2005 and 2001 elections," Senator George Manneh Weah expresses in a nationwide address delivered on Monday, 30 October in the Rotunda of the Capitol Building on Capitol Hill.
Weah notes that the incumbent Vice President, who seeks to replace Nobel Laureate Madam Ellen Johnson Sirleaf, is complaining that he was cheated in the October 10, Presidential election.
The governing Unity Party alleges that results from the polls do not represent the actual votes cast in the first round of elections, and says it is in solidarity with three opposition parties calling for a re-run of the polls.
But Senator Weah stresses that the Supreme Court of Liberia, currently hearing a petition for prohibition filed by the opposition Liberty Party, is fully responsible for the stability and peace of Liberia.
He continues that the manner in which the Supreme Court of Liberia handles the electoral case will largely determine the stability and forward march of peace here.
He says the Liberian people are watching and the will of the people must be respected at all levels, adding that while it is true that both political parties are campaigning ahead of the 7 November Presidential runoff, Liberians should bear in mind that Liberia is the common interest that everyone should protect jealously.
The former soccer legend calls on his supporters to remain peaceful during and after the electoral process, reminding that from the start of his political career, he has been the custodian of peace, which all Liberians enjoy today, and promises to do all in his power to preserve the peace and stability of the state.
Weah maintains that the CDC stands ready to campaign throughout the length and breadth of Liberia to ensure nothing but victory comes Tuesday.
He further emphasizes that every Liberia has a constitutional right to vote, calling on all Liberians to go out on November 7th to cast their votes, ignoring detractors.
The man who transitioned from the football field and made his debut in politics in 2005, also calls on the international community to be very attentive to the ongoing electoral process in the country especially, the upcoming presidential runoff and to ensure the will of the Liberian people prevails.
By Bridgett Milton-Editing by Jonathan Browne