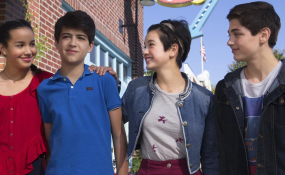 Photo: Nairobi News
By Hilary Kimuyu
Kenya Film Classification Board (KFCB) has banned a Disney Channel show that has a gay character from being aired in the country.
The popular Andy Mack show is in its second season. It was banned after its producers added a gay character to the show.
KFCB chief executive Ezekiel Mutua on Monday said the show will not air in Kenya and "any attempt to introduce gay programming in Kenya will be met with the full force of the law."
Attempts to introduce gay program in Kenya will be met with the full force of the law @StarTimesKenya @ZukuOfficial #GayProgWontAirInKenya pic.twitter.com/6FNug06qGv
- Dr. Ezekiel Mutua (@EzekielMutua) October 30, 2017
Mutua added that no children program with gay content will air in Kenya.
"Homosexuality goes against the collective and values by the people of Kenya," he argued.
Children must be given correct information tht family is a union btwn people of opposite gender @InfoKfcb @Disney #GayProgWontAirInKenya pic.twitter.com/QvJIMhZQke
- Dr. Ezekiel Mutua (@EzekielMutua) October 30, 2017
"Andi Mack is a story about 'tweens' figuring out who they are," said Disney Channel in a statement. "(Creator) Terri Minsky, the cast and everyone involved in the show takes great care in ensuring that it's appropriate for all audiences and sends a powerful message about inclusion and respect for humanity."
Following the ban, Multichoice issued a statement, reading in part; "Following numerous media reports regarding the upcoming Andi Mack Disney Series, Multichoice has consulted its channel provider, Disney and would like to confirm that this show was not scheduled to air on any of Disney Channels on DStv or GOtv."
In addition, GOtv tweeted; "Disney (Disney Channel/Disney XD/Disney Junior) has always created inclusive stories that reflect acceptance and tolerance and seek to entertain through inspirational and aspirational themes that reflect the rich diversity of the human experience. Our shows are developed to be relevant to kids and families globally while being extremely respectful of each market's cultural sensibilities, compliance, rules and regulations."