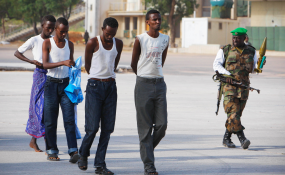 Photo: Stuart Price/UN
DPs living in camps in Lamu after they fled their homes following al Shabaab attacks have been told to go back home. About 2,000 IDPs have been putting up at the Katsaka Kairu and Witu AIC church camps since July.
The majority are from Pandanguo, Jima, Poromoko, Kakathe, Maleli, Nyongoro villages and areas bordering Boni Forest. Most fled to the camps due to insecurity, but some landed there after being told to vacate their homes to pave way for the security operation to flush out al Shabaab militants.
County commissioner Gilbert Kitiyo yesterday said order has been restored in the villages and the IDPs are free to return. He said no one is being forced to return and that those not ready to go back will be taken care of until they are ready.
Kitiyo said the security forces have been able to neutralise al Shabaab militants, adding villagers will be safe in their homes.
He said he sees no need for the IDPs to continue staying in the camps.
"They can stay a little longer because we understand some aren't psychologically up to it yet," Kitiyo said. More than 200 Kenya police reservists have been deployed to all villages and will be there 24 hours a day.
The national government is pushing ahead with the Boni Enclave Campaign, a security operation to flush out al Shabaab militants in various parts of the county, but mostly the Boni Forest.
Last week, officers killed four al Shabaab militants at Mararani area in Lamu East and recovered four AK-47 rifles, three grenades, mobile phones, bomb-making paraphernalia and food.
Boni Enclave Campaign director Joseph Kanyiri said the operation will go on until security, peace and calm are restored.