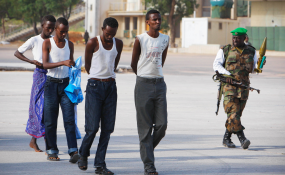 Photo: Stuart Price/UN
At least 8 AlShabaab militants on Monday night died in an IED explosion in north of the Somali capital Mogadishu, Radio Dalsan reports. The eight were part of a Mogadishu based AlShabaab cell that were planning to execute an attack in the capital, a NISA official told Radio Dalsan.
The incident occurred in Danida village where they were reportedly planting the bomb. Mogadishu has this year experienced a surge in IED explosions and assassinations by the insurgent Islamist group.