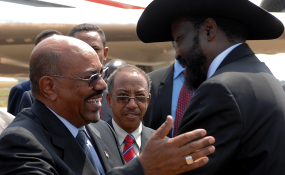 Photo: Isaac Billy/UN Photo
By Mohammed Amin
South Sudan Defence minister Kuol Manyang Juuk arrived in Khartoum Monday for talks with his Sudanese counterpart Awad Ibn Oaf.
The two were meeting ahead of President Salva Kiir's visit to the Sudanese capital on Wednesday.
President Kiir is scheduled to a pay two-day visit to Sudan, where he will hold talks with President Omar al-Bashir.
The accusations
The two presidents are expected to discuss the peace process in South Sudan, in addition to the implementation of the 2012 cooperation deal between the two neighbours.
Also lined up for discussions are the accusations of support to rebels on both sides, border demarcation and the establishment of the demilitarised buffer zone.
Two leaders
The two leaders are also expected to discuss the exploitation of their oil resources and the disputed region of Abyei.
The humanitarian situation of the estimated 500,000 South Sudanese refugees in Sudan is also expected to feature in the two leaders' talks.
Meanwhile, South Sudan's Information minister Michael Makuei was also expected to start talks with his Khartoum counterpart Ahmed Bilal Osman on Monday.