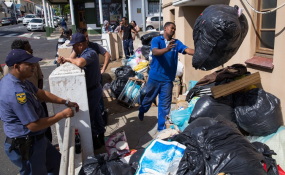 Photo: Ashraf Hendricks/GroundUp
By Ashraf Hendricks
Carmina Vieira was evicted on Wednesday from her home in Woodstock. She had lived there for 26 years. On 24 October, Reclaim the City and other supporters halted her eviction but on Wednesday the eviction proceeded. All of her belongings, already packed in black bags and boxes, filled the garden area and pavement. Reclaim the City supporters picketed against the eviction as it took place. Police also watched from nearby.
Vieira said that the sheriff and police arrived unexpectedly. He told her that "his duty was to put her out", she said. "It's not a nice feeling. It's not nice to be on the street with your children, and especially if you're alone and your husband is not even here." Her husband is currently at sea and is unaware that the eviction is taking place, while Viera's daughter was at UCT at the time.
Viera's son, Damian, had to to urgently leave work to be with his mother. He is 22 and has always lived in Woodstock. "It's horrible for me and I couldn't concentrate at work," he said. Damian says that it's "heart sore" seeing all his family's things strewn across the pavement. "It's breaking me down on the inside but I do not want to show it," he said.
"We were so shocked to hear that the eviction is already taking place" said Reclaim the City supporter Patrick Metshile.
Reclaim the City (via a text message) said that at this point the eviction can't be stopped. "So now we are looking for support to help move their belongings and to search for alternative accommodation."
At the previous eviction attempt, the attorney of landlord Noor Parker said that Vieira had agreed to leave months ago. "We have been to court seven times with her," he said. The attorney said she had agreed to move out on 11 October, but when that date came she had not managed to find alternative accommodation.
Viera has been unable to find accommodation she can afford. "I'm just standing here on the street and we'll see what's going to happen."