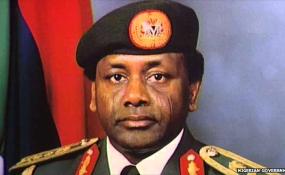 Photo: Premium Times
By Isiaka Wakili
The Federal Executive Council Wednesday authorised the Attorney-General of the Federation, Abubakar Malami, to ratify a memorandum of understanding with the Swiss government on the repatriation of the $321m fresh Abacha loot.
Briefing State House correspondents after the cabinet meeting, Malami said the council approved his memo aimed at shifting the focus to international recovery of stolen funds and assets having succeeded in local recoveries.
The AGF recalled that about a week ago, Nigeria succeeded in recovering $85 million "relating to Malabu issues from the United Kingdom."
He stated: "Now, there exists a forum, that is Global Assets Recovery Forum taking place in December in the US and we are looking towards that, we are in agreement substantially with the Swiss for the recovery of additional sum of $321million.
"That memorandum of understanding has been substantially agreed between Nigeria and the Swiss. We intend to now execute or sign off the agreement during the global forum on assets recovery coming up December. The intention of the memo is to seek the approval of the council to allow the Attorney-General to sign the agreement on behalf of the government of the Federation of Nigeria. Two, is to develop an instrument of ratification which will now give the Attorney-General the powers to ensure the repatriation of the funds.
"It's collectively agreed upon between Nigeria and Swiss that we on own part should seek the approval of council to ratify the MoU as agreed, and they on their own part too, procure the instrument of ratification that will now give the respective officers of the two countries the desire power and effect to now sign off on the agreement.
"The memo has accordingly been agreed and approved by the council. The implication of which is that the MoU as negotiated between Nigeria and Swiss has been agreed and ratified by council and then the Attorney-General has been mandated to execute the agreement that will see to the repatriation of the $321m."