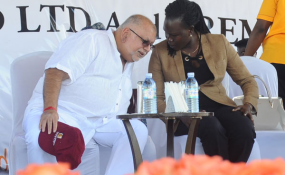 Photo: Eddie Chicco/Daily Monitor
By Yasiin Mugerwa
Kampala — Ministry of Finance officials are looking for at least 1.56 square miles (about 1,000 acres) in Wakiso District to help City tycoon Sudhir Ruparelia to expand his flower business.
In a hush-hush give and take deal, sources close to Mr Ruparelia and Ministry of Finance officials however, placed emphasis on the need to implement President Museveni's directive on job creation.
The businessman, according to sources, told government in September that he needed land to create jobs for more than 7000 Ugandans, expand his flowers business and establish a fruit processing factory in Wakiso District.
President Museveni has since instructed Privatisation and Investment Minister Evelyn Anite to work with Uganda Investment Authority and the private sector to attract investments needed to create more than 15 million jobs by end 2040 and 1.2 million jobs by end of his current term. Uganda Investment Authority is supposed to work with Uganda Free Zone Authority (UFZA) to identify land for investment.
In the event that government gets the 1,000 acres, Mr Ruparelia has promised that his two companies, Rosebud Limited and Premier Roses Limited, would create more than 7,000 before 2021. This is in addition to the current 1,500 jobs.
To expedite the process, another source in Finance ministry told this newspaper that ministry officials want to use the non-fiscal incentives under UFZA, a corporate body under the supervision of Ministry of Finance.
The UFZA's non-fiscal incentives include free land (based on the availability) for development.
Although no specific piece of land has been identified for this purpose, Section 53 (c) of the Land Act authorises Uganda Land Commission to lease, and deal with land under its authority as it may deem fit.
The deal, according to sources, is being paraded under the auspices of the government policy on investment and supporting of the local entrepreneurs to supplement government efforts to create jobs.
"Who gave you that information? What's wrong with helping Sudhir get land for investment and job creation? Have you forgotten that the theme of NRM Manifesto is to take Uganda to modernity through job-creation and inclusive development? Have you forgotten that in this Kisanja Hakuna Mchezo [term of no games], the president in the NRM manifesto undertook to create jobs for our people?" Ms Anite asked.
She added: "By the way, there is nothing sinister about what we are trying to do. We are going to use government land to create jobs and we are deliberately working with the private sector to speed up job creation in the country. We don't want quack investors, we want serious entrepreneurs and if Sudhir has the capacity to create more than 7,000 jobs and boost our export earnings, why can't we support him?"
Despite continued economic growth exhibited in government data, in reality, unemployment and underemployment remain persistent in the country. Young people are disproportionately affected, with more than 80 per cent of 15-24 year olds unemployed.
In fact, more than 50 jobless Ugandans chase one job opportunity- highlighting a deepening crisis in the country.
Ms Anite was a chief guest at the Free Zone licensing ceremony in Lutembe at the weekend. She promised to support the investor particularly in his quest to expand his flower businesses.
The Minister, however, said the final decision of the land Mr Sudhir wants for investment will be made by the President.
Sources say the minister's visit was in other ways intended to assess Mr Sudhir's request for additional 1,000 acres up from 250 he currently occupies.