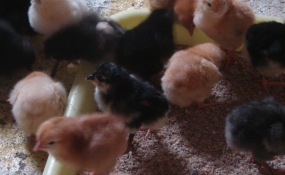 Photo: Melissa Britz/allAfrica.com
By Peter Elias
Dar es Salaam — Veterinarians have condemned government's decision to burn 6,400 chicks which were illegally imported from Kenya.
The chicks worth Sh12.5 million were impounded on Monday at Namanga Border Post in Longido district, Arusha region, before being burnt on Tuesday.
Expressing his concern, executive director of a non-governmental organisation, Tanzania Animal Welfare Society (TAWESO) Dr Thomas Kahema suggested that there were alternative was to curb outbreak of animal diseases such as bird flu apart from burning the imported chicks.
According to him the best option was to return the chicks to the primary owner, if the reason was to really protect outbreak of diseases.
"The decision has distorter image of the country to our neighbour, no one expected if that would be possible," he told The Citizen.
Other concerns were from social media as many users expressed their concerns on the government decision.
The chicks were owned by Arusha-based businesswomen Mary Matia, who is in police custody.
On Tuesday, Northern Zone veterinarian Obedi Nyasebwa said that the aim was to curb outbreaks of animal diseases such as bird flu.
The government banned chick importation in 2007.
"The chicks will be burned in accordance with Animal Diseases Act, 2003," he said.
Namanga Border Post Tanzania Revenue Authority assistant manager Edwin Iwato said the owner of the vehicle that carried the chicks would be fined.
Senior veterinarian Medard Tarimo said complaints about chick smuggling had been rife. "They are mostly smuggled at night hours, endangering the health of Tanzanians since we know avian influenza has broken out in neighbouring Uganda."