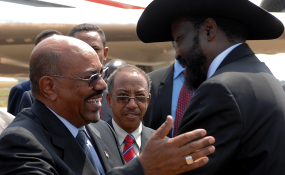 Photo: Isaac Billy/UN Photo
Khartoum — President of South Sudan, Gen Salva Kiir Mayardit arrived in Khartoum, Wednesday, on a two-day visit to Sudan during which he will hold talks with President of the Republic, Field Marshal Omer Bashir on conoslidation of relations between the two countries.
President Kiir was received at Khartoum Airport by President Bashir and a number of senior government officials.
Several agreements will be signed during the visit and that the two sides will give a news conference at Republican Palace on Thursday.
President Kiir will meet at his residence in Corinthia Hotel with the First Vice-President of the Republic and Federal Prime Minister, lt Gen. Bakri Hassan Salih on Wednesday evening besides holding a series of meetings at his residence Thursday.