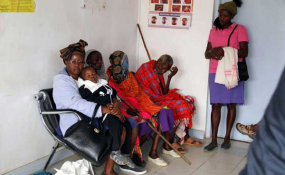 Photo: George Sayagie/The Nation
By Angela Oketch
The National Hospital Insurance Fund (NHIF) says it will no longer require patients to pre-select health facilities for outpatient services, in a move that could ensure all those covered by the agency get timely medical help.
On Wednesday, NHIF chief executive Geoffrey Mwangi said that it will no longer be a requirement for members to receive outpatient services in a facility they had initially selected.
According to the old system, it was a requirement that you only access outpatient services in the hospitals that you earlier chose.
Mr Mwangi clarified that beneficiaries will now be able to access any facility on preferences basis from a list of designated facilities provided by the fund countrywide effective from November 1, 2017.
"I have come across several complains where a beneficiary travelled and became ill and he/she cannot be treated because they did not choose the nearby facilities," said Mr Mwangi.
RELIEF
This is a relief to many cardholders who were not able to receive outpatient services in private hospitals in the wake of nurse's strike despite remitting their monthly contributions.
These are the people, in formal and informal jobs as well as in business, who pay a predictable premium every month and who benefit from the fund when they or their dependents fall ill.
They said that since the nurses went on strike, they have been paying cash to have their loved ones treated when they fall in. they cannot be treated in most private facilities because he did not pre-select the facility.
The changes which allow for portability of services, Mr Mwangi said will apply to both members of the National Scheme and the Managed Schemes.
"The fund is responding to the needs of its beneficiaries and at the same time adapting to the changing market dynamics while promoting the aspiration to universal health care coverage with a view to facilitating access to affordable, sustainable, equitable and quality social health insurance," he said.
Mr Mwangi clarified that in line with the changes, members will no longer co-pay as was the case previously and will continue enjoying the same benefits package.
"Members shall be informed upon visiting the facility the arrangement for healthcare delivery as engaged by NHIF. Members can access a designated list of contracted and declared healthcare facilities in all NHIF service points," he said.