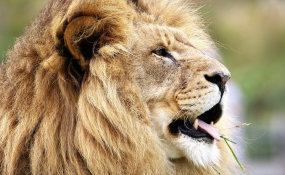 Photo: Pixabay
By David Kwalimwa and Agencies
A rare intimate encounter between two male Lions has been captured in Kenya by a wildlife photographer, sending the social media into a frenzy.
The love birds were spotted in a secluded bushy spot at the famous Maasai Mara holiday destination, while behaving in a manner suggesting they were involved in a sexual contact.
Paul Goldstein who was fortunate enough to photograph the incident told British newspaper Daily Mail thathe initially saw the lions standing next to each other before one lay down and the other mounted him.
"I have had this happening in Botswana but with nothing like this vigour, and indeed at various zoos and safari parks, but incacarated animals will do strange things, who can blame them."
"This however was astonishing. When lions mate it normally lasts a few seconds, these two were at it for a minute and obvious affection afterwards was very evident, as opposed to the violent withdrawal when male and female mate. "
Understandably, the incident has incited speculation and discussions on Twitter.
Everyone STOP what you're doing!! GAY LIONS spotted in Kenya! Did you hear what I said? Gay lions People!! 😂😂😂😂😂! Now I've seen everything! pic.twitter.com/xxSCK36k4a
- Emmanuel Lumumba (@e_lumumba) November 1, 2017
SHOCKING!! Gay lions spotted in Masai Mara. https://t.co/9CmlDc8DXs
- Nairobians (@CityInTheSun) November 1, 2017
Now u people never seize to amaze me. How did u know lions are gay??
- spicy bae (@ksmal_kasmal) November 1, 2017
Just two male lions having bro-time! #BMS https://t.co/HpR57YFPYJ
- Billy Madison (@BMS_Billy) November 1, 2017
Gay lions??? Really? Just go away. Report on something of significance, or can you?
- Kate M. Grey (@katemgreygbs) November 1, 2017