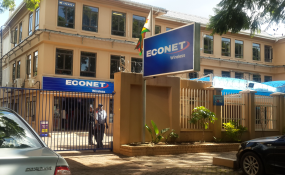 Photo: Jerry Chifamba/allAfrica
By Phillimon Mhlanga
Ecocash, a unit of the country's largest mobile telecommunications network operator, Econet Wireless Zimbabwe, yesterday launched its swipe-to-Ecocash facility expected to create convenience to customers.
Zimbabwe's dollarised economy is facing severe cash shortages, which have seen the increased use of electronic payments.
Natalie Jabangwe-Morris, the general manager of Ecocash, said the facility was aimed at deepening electronic transactions in line with the Reserve Bank of Zimbabwe (RBZ)'s agenda for the country to become a cash-lite society.
The facility is targeted at Ecocash customers who bank with different financial institutions. Users will simply transfer money from their bank accounts into their Ecocash accounts using their bank cards on Steward Bank point of sale machines (POS) across the country.
The facility, Morris said, is expected to create convenience and protect agents viability.
"We know that we have a country to change, a world to connect and a job to do to make sure we deliver on our goals in line with the RBZ agenda," said Morris.
"For over five years, we have been doing mobile money to cash in and out. But it was time for us to start to think about what is beyond mobile money. With that we have come up with swipe into Ecocash, something which is truly a convenience for all. This is in line with the RBZ agenda of promoting electronic payments system.
"Customers are now able to swipe into cash using any bank card anywhere across the country where there is Steward Bank point of sale (POS) machine. The facility will be available in about 5 000 agents registered nationwide. This will create convenience to our customers."
Morris indicated that swipe-into-Ecocash is expected to cut down agents costs.
"In the absence of cash, agents were finding it difficult to find cash to run businesses. Now, agents would not require any float to do business. What they need now is just to have a POS machine and start earning commission. What this means is that we have cut down their cost of doing business. They no longer need to invest money to start business," she said.
Ecocash has become the most used system when transacting in Zimbabwe owing to the current cash shortage.
Ecocash, which has over 6,8 million customers, has processed transactions worth over $23 billion over the past five years.