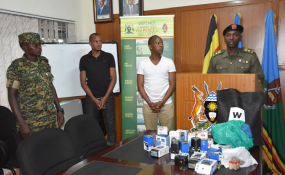 Photo: MODVA
By GODFREY SSALI
Kampala — Businessman Frank Gashumba and brother Innocent Kasumba Thursday petitioned Nakawa Chief Magistrate Court seeking to be released from custody at a government facility, the special investigation unit Kireka, on grounds that his continued detention is unconstitutional, illegal and unlawful.
Through their lawyers from Dennis Nyombi and Company Advocates,the applicants say they have not been produced in court within the constitutionally prescribed time of 48hours since they were arrested, and have been denied access to family, friends, Doctor and lawyer.
They are afraid that their loved ones maybe undergoing torture, inhumane and degrading treatment.
They argue that Kasumba and Gashumba have been in detention since 28th and 30th October respectively at the said security agency, and despite his lawyers intervention yesterday November 01, 2017 Nyombi was denied access to his clients or a police bond without any reason, yet no charges have been preferred against them.
It's against this background that their continued detention is unjustified and therefore warrants courts intervention to secure their release.
The duos application has been filed against the Attorney General and it has been received by the court, although a hearing date is yet to be fixed.
Gashumba and his brother were paraded in front of the press by the army on Monday where the deputy army spokesman Lt.Col Deo Akiiki said they were impersonating Ministry of Defence and Veterans Affairs (MODVA) officials with an aim to fleece investors in addition to possession of narcotics.