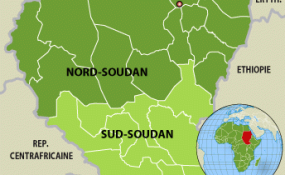 Photo: Latifa Mouaoued/RFI
Khartoum — President of South Sudan Sttae, Gen. Salva Kiir Mayardit, said that his country did not host any opposition or rebel movements against any neighboring country, saying there is no Sudanese opposition and armed movements in South Sudan.
President Kiir stated in joint news conference with President of the Republic, Field Marshal Omer Al-Bashir in the Republican Palace, Thursday, that South Sudan desires good neighborliness with Sudan , disclosing that there beneficiaries from worsening of relations between Khartoum and Juba who work for making rumors an d lies to misguide the public opinion in Sudan and South Sudan with aim to make political and security tensions between the two Countries.
" We are one people in two countries and we want to live in peace " President Kiir said.
The President of South Sudan underscored his country desire to make use of Sudanese-Chadian experiment in securing the joint borders by implementing the experiment along the joint borders between the two countries.
He said that he agreed with President Al-Bashir to give attention to implementation of deals signed between Khartoum and Juba.
"I am confident that we would reap fruit of our talks for interest of people of our two countries, " President Kiir added.
The President of South Sudan pointed out that his visit to Sudan constitutes a new launch in bilateral relations and joint cooperation.