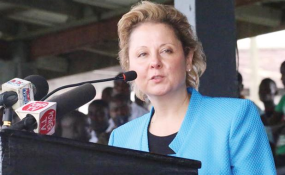 Photo: FrontPage Africa
... Amb. Elder Assures Liberia
United States Ambassador to Liberia, Christine Elder Ambassador Elder said her government through its various development agencies shall continue to remain engaged with Liberia along its development course.
Ambassador Elder said the United States will enhance various levels of cooperation that subsist between both nations and people.
According to an Executive Mansion release, the US diplomat spoke Wednesday when she served as special guest of President Ellen Johnson-Sirleaf during Cabinet's sitting at the Ministry of Foreign Affairs in Monrovia.
The senior American diplomat acknowledged her respect for respective Ministries, Agencies and Commissions with which collaboration remain forged, particularly the team spirit that has occasioned diverse partnerships.
She said Liberia faces crucial transition and called on Liberians to put their country first.
In a befitting American-styled gesture, Ambassador Elder feted Cabinet members with a variety of sumptuous American delicacies reminisce of the observance of U.S. Thanksgiving.
She thanked members of the Executive Branch of Government for the opportunity to join them especially in light of the American Thanksgiving.
On behalf of the Cabinet, Agriculture Minister, Seklau E. Wiles lauded Ambassador Elder for the lunch, which she described as tasty.