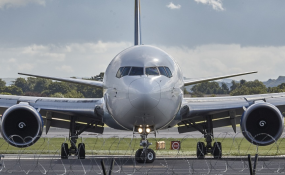 Photo: Pixabay
By Christopher C. Walker
Monrovia — A Pan African Airline, ASKY, has officially resumed flights to Liberia after three years of absence.
The Togolese-based airline in partnership with the Ethiopian Airline, touched down at the James Springs Payne Airport on Wednesday, November 1, at 1615 GMT.
In flight marked ET-AQF were 60 passengers, including a famous Liberian politician, Dew Tuah Wreh Mason.
The Airline suspended its operation in Liberia during the heat of the deadly Ebola Virus Disease in 2014.
In early June of 2014 ASKY airline flew several passengers from Liberia including the late Patrick Sawyer, who died as a result of Ebola in Nigeria.
Upon her return to Liberia its marketing consultant, Nyema Badio, promised quality service delivery to its many customers.
Mr. Badio told newsman at the James Springs Payne Airport that the Airlines is fully ready and prepared to provide comfort to her many customers who will travel with them.
"ASKY is here to stay and is advantageous to travelers who drive 45 minutes to the Roberts International Airport (RIA) to travel but using ASKY they could save time and money".
Badio asserted that the James Springs Payne Airport will be the only port in the country they will land and takeoff from while operating in Liberia.
As evident of her activities in Liberia, ASKY airlines kicked off effective flight Thursday, November 2.
It will run daily operations from Lomé, Accra, and Monrovia and from Monrovia via Accra to Lomé that's according to the Mr. Badio.
The 60-seated capacity plane flies to about 30 cities including 15 on the continent.
Some of the Cities includes: Monrovia, Lomé, Accra, Kinshasa, Ouagadougou, Bamako, Douala, Banjul, Freetown, Sao Paolo and other parts of Asia and Europe respectively.
Also speaking, the Port Manager of the airport, Emmanuel Taplah, lauded the flight for returning to Liberia after three years.
"We are glad to see the return of ASKY airlines to Liberia because it will boost our economy."
He told reports that with the presence of ASKY; economic activities can be further strengthened at the Airport, which has not been receiving commercial flights for some time.
"There is a good relationship with ASKY and the Liberia National Airport Authority, which attracted them to come back to Liberia after three years away from this country."
With the resumption of the Airline to Liberia, many travelers who find it difficult to travel due to limited flight that fly in and out of Liberia, they will now have alternative in the Pan African Airline.
ASKY Airlines is a passenger airline founded in June of 2008 on the initiative of West African governments, and has its head office in Lomé, Togo.
It operates across several West and Central African countries, operating out of its hub at Lomé Tokoin
After the pan-African airline Air Afrique went bankrupt in 2002, cross-border air transport in Africa became more difficult, especially in West and Central Africa.
At a conference of the Economic Community of West African States (ECOWAS) and the West African Economic and Monetary (UEMOA) at Niamey in Niger on 10 January 2004, it was decided to create a private, competitive, cost-effective airline offering all guarantees of safety and security for the region.
In September 2005, the company for the promotion of a regional airline (SPCAR) was set up, which led to various feasibility studies and market studies, and sought financial and strategic partners; this led to the establishment of ASKY Airlines in November 2007.
On 17 January 2008 the General Meeting to establish the new international private airline was held in Ouagadougou, Burkina Faso.
80% of shares were to be held by private investors and 20% by public financial institutions whose mission is to support privately owned development institutions.
Ethiopian Airlines became the technical and strategic partner under a management contract for the first five years of operation, holding a 40% stake.
Originally planned for April 2009, the first revenue flight took place on 15 January 2010.