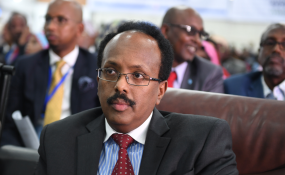 Photo: Ilyas Ahmed/UN
The President of the Federal Republic of Somalia, Mohamed Abdullahi Farmajo, who is also the commander of the armed forces has chaired a high-level a security meeting in Mogadishu.
The meeting which was held at the heavily fortified hill-top Presidential Palace in the capital was attended by Prime Minister Hassan Ali Khaire, deputy PM Mahdi Mohmed Guled, security chiefs and leaders of the Federal member states.
The conference focused on the security, the main challenge that Somalia is facing currently and the fight against Al Shabaab which is a threat to the country's security and the neighbouring countries in East Africa.
The Minister of Information for the Federal Government, H.E Abdirahman Omar Yarisow told reporters that the meeting was the second National Security Council to be presided over by President Farmajo.
The Government and regional states agreed to jointly fight against Al Shabaab and restore law and order in the country that was beset by more than two decades of conflict, according to the Minister.
The national defensive plan and the integration of the regional forces were approved during the meeting which comes days after Al Shabaab launched deadly car bombings in Mogadishu that killed more than 400 people.