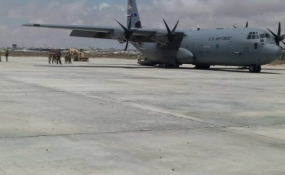 Photo: Radio Shabelle
Youth based in Somalia and the diaspora have launched a movement dubbed in a bid to have their voice heard in matters related to security.
The movement comes in the wake of the deadliest single attack on Somalia's soil that claimed the lives of more than 400 people and last weeks Nasa Hablood 2 Hotel attack that saw 27 people dead.
"Join the movement or else watch from the sidelines as we reclaim back a life free of terror. Peace is all we seek" Fatima Ilhan Mohamed a youth activist tweeted.
"Allah will not change the condition of the people until they change what is in them. Change starts within us" she challenged other youth.
The founders of the movement believe the youth have the solution to the security crisis facing Somalia as a result of an ongoing insurgency by militant group Alshabaab.
Ahmed Sadak tweeted "I truly believe you are the only chance this country has. Dhalinyaaro the youth"
"There is no question about government responsibility to secure the country but as citizens did we pause to ask what our responsibility is?" Ali Nor Abdi asked.
"No country could be pacified without galvanizing public support" Abdikarin Gabow tweeted.
Some of the youth are of the opinion that recent sackings will not improve security but rather a change in policies.
Abdiweli Omar tweets "We have to play our role to participate in the movement in anyway to bring it back because we deserve a better future" .
There has been mixed reaction to the formation of this "movement" with a majority echoing the need for youth to be involved in matters security and the public participation in community policing.
Its critics however dismiss the movement as a Utopian vision whose existence is not beyond social media and ran by supposedly diaspora youth detached from the reality on the ground.