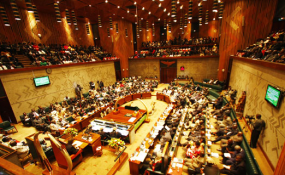 Photo: Zambia Reports
By Michael Chawe
Zambia's opposition legislators Friday stormed out of Parliament to protest President Edgar Lungu's intimidation of judges.
The president had claimed late Thursday that there was a plot by the judiciary to block him from seeking re-election in the 2021 poll.
His bid to run in the election is currently being challenged in court by the opposition, who argue that he is serving his second and final term.
"I have information that some of our judges have colluded and want to emulate their colleagues in Kenya, but am saying forewarned is forearmed. Don't plunge the country into chaos," he said when addressing supporters in the northwest.
But opposition United Party for National Development (UPND) legislators say the president should respect the separation of powers between the executive and the judiciary.
Ruling Patriotic Front party MP, who is also an ex-Information minister, Chishimba Kambwili also walked out of Parliament with the opposition lawmakers after Speaker Patrick Matibini declined to give a ruling on whether the president was in order to intimidate with the judiciary.
Mr Matibini instead referred the question raised by UNPD legislator Garry Nkombo to the vice president Inonge Wina who said Mr Lungu was only offering counsel to the judges.
Kenya has since September been rocked in political uncertainty after the Supreme Court overturned the August presidential election over widespread irregularities.
President Lungu took over the country's leadership in January 2015 following the death of Michael Sata. He won in a controversial election in 2016 which has become a sticking point in the country's politics.