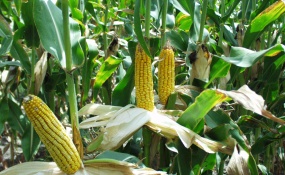 Photo: The Financial Gazette
Marondera — Farmers who benefitted from the government's controversial $500 million command agriculture scheme have failed to repay loans after selling their produce to middlemen, an Agritex official has confirmed.
The low rate of loan repayment by the farmers has forced the government to put in place new stringent requirements for all the beneficiaries of the 2017/18 programme, the government official said in an interview.
Under the command agricultural programme, beneficiaries were expected to deliver their harvested maize to the state-owned Grain Marketing Board (GMB), where the government was expected to recoup its expenses from.
However, according to an Agritex official based in Marondera, a huge number of farmers were unwilling to service their loans and sold their grain to middlemen who offered instant cash. The middlemen went on to resell the maize to the GMB at a higher price.
Last month, Vice President Emmerson Mnangagwa, who is heading the programme, confirmed that the government had only received $60m from farmers who had repaid their loans through the GMB.
The failure by the farmers to honour their debts had forced the government to put in place new stringent requirements for all farmers applying for new loans for the 2017/18 farming season.
"We are receiving various reasons from the farmers on why they failed to repay their loans," he said.
"Some are citing loss of their crops to veld fires, poor yields due to late disbursements of inputs or lack of adequate rains. A number are even claiming they are still harvesting their maize, but need inputs to prepare for the next season."
Although the Agritex official could not give figures on how much the government was owed, he confirmed that farmers who had failed to service their loans had reapplied for new inputs.
"Inputs for the coming farming season are being allocated to farmers who have fully repaid their loans and those people applying for inputs for the first time. We are also working on recovering outstanding amounts from the farmers who fail to repay the loans.
"As a result, few farmers are meeting the new requirements as we want to avoid what happened in previous arrangements when farmers received government loans and inputs, but failed to repay and nothing was done to recover the loans."
Since its launch last year, the command agriculture programme has been dogged by numerous challenges, including theft of inputs by farmers and government officials, disagreements among government ministers over the programme's implementation and late disbursements or non-delivery of inputs to farmers.