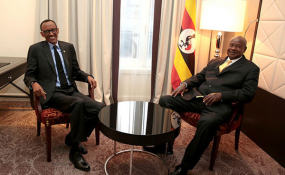 Photo: The East African
By Haggai Matsiko
Kampala — Days after it happened, the scene at the army General Court Martial in Makindye, Kampala, on Oct.27 remains unforgettable.
Seven police officers; among them a few very senior ones, were paraded for trial for alleged kidnap and unlawful possession of firearms.
Quite unusually, journalists were invited to cover the proceeding and allowed unprecedented freedom to film the suspects as they emerged from the back of a covered army truck and climbed the steep flight of steps of the court house.
Whoever organised the event was determined to send out a message. Typical of men of the force, the suspects filed out of the truck in order of rank. Senior Commissioner of Police Joel Aguma, stepped out of the truck first. He is the most senior and seeing this commandant of the police Professional Standards Unit in handcuffs spoke volumes.
But all eyes were on the man who followed him off the truck; Senior Superintendent of Police Nixon Agasirwe. A huge 6-foot something man, the former commander of the police's notorious Special Operations Unit, Agasirwe was once called the "butcher of Nalufenya" for the manner in which he allegedly tortured suspects at the dreaded Nalufenya Police Station, which has been turned into a torture complex.
As he stepped off the truck in handcuffs, with a tiny bottle of water in his hand, he sweated slightly and was pensive; almost worried - as if dreaded that what he has done to others for years, would now be meted on him.
Agasirwe has been a feared man on the force, partly because he has been seen as the enforcer of the Inspector General of Police, Gen. Kale Kayihura. His arrest and detention is a message.
That the operation to arrest the officers targeted people closest to Kayihura in the police force and was conducted by his foes from the Chieftaincy of Military Intelligence and the Internal Security Organisation shows the depth of Kayihura's misery.
But what makes Kayihura's reign as police boss look shaky at the moment are reports that President Yoweri Museveni, personally planned this move over a long time. Part of the plan to encircle Kayihura reportedly involved Museveni's powerful brother Gen. Caleb Akandwanaho aka Salim Saleh, and the tough Minister for Security, Gen. Henry Tumukunde.
The General Court Martial (GCM) trial is being seen as a climax of a long term plan by Museveni to reclaim control of the security forces from Kayihura, insiders have told The Independent.
The choice of the Court Martial signals that the authorities are taking the case seriously and are keen to detain the suspects for a while. While in the civilian courts, the suspects could have easily secured bail, military law is stricter.
Museveni's handlers claim he became concerned that Uganda's internal security system had become heavily compromised by the men on trial and others on the loose.
The seven on trial include SSP Nixon Agasirwe, SCP Joel Aguma, Assistant Superintendent of Police James Magada of Crime Intelligence, Benon Atwebembeire, Sgt Abel Tumukunde, and Faisal Katende of the Kampala Metropolitan Police Flying Squad, and Special Police Constable Amon Kwarisima.
These men are said to have been very close to Kayihura and their arrest is seen as an unprecedented indictment of him.
They were supposed to be 12 but five were yet to be netted, a source intimated. And of the five, the official added, two have disappeared.
One of the five is Jonathan Baroza, a former Aide to Gen. Kayihura.
The Rwandan twist
Apart from these police officers, the other two suspects were; a former Rwandan soldier, Rene Rutanungira, who has been living in Uganda and a Congolese national, Bahati Mugenga. The inclusion of the Rwandans has added a tense diplomatic twist to the saga.
Reading from the charge sheet, Lt. Gen. Andrew Gutti, who was appointed the Chairman of the General Court Martial last year, said the officers, around October 25, 2013, while in unlawful possession of firearms and grenades ordinarily a monopoly of the Defence Forces, conveyed Joel Mutabazi a former presidential guard for Rwanda President Paul Kagame and Jackson Kalemera without their consent to Rwanda.
A military source said that by Nov. 20 when the suspects return to court, the charges will likely have been amended to include more than just the two cases of illegally extraditing Rwandese refugees.
Observers find the case interesting because of its timing. It is four years now since Lt. Mutabazi was taken from Sky Hotel in Naalya, a Kampala suburb where he was living with his family. Mutabazi was later charged with terrorism and sentenced to life in prison in Rwanda.
But most importantly, Mutabazi's case played out in the media. Ugandan authorities knew when it happened, had the capacity to investigate it and try those behind it at the time. Indeed, the officer who oversaw it, Aguma, was suspended before bouncing back in police leadership a year later.
Museveni's handlers claim the president's interest in the case was reignited when while in New York for the United Nations General Assembly in September, on the sidelines of the main events, a UN official complained to him about the continued extraditing of Rwandan refugees.
However, Museveni is not one to reopen old wounds of an ally lightly. More so he and his Rwandan counterpart, Paul Kagame, have since their rapprochement in 2011 maintained several formal and informal channels through which such issues could be raised.
In this case, however, insiders say Uganda has not raised any complaints with the Rwandan government. Instead, it is Rwanda, which has been raising concerns that Uganda is habouring Rwandan people who have fled Rwanda and are hostile to Kagame's government.
It has been pointed out that although in 2009, the Rwandan Foreign Affairs Minister and his Ugandan counterpart signed an extradition treaty; Uganda has not ratified it although Rwanda has.
This is amongst several issues, according to insiders, that have made Uganda-Rwanda relations appear cranky at the moment. That the trial happens around this time and targets only those around Kayihura speaks volumes, observers say.
Ganging up against Kayihura
Contextually, the turning point in this saga appears to have been the gruesome murder on March 17 of AIGP Andrew Felix Kaweesi, an astute officer whom Kayihura had meteorically promoted to the apex of the force. While Kayihura blamed his murder on other things including the Allied Democratic Forces (ADF)--a rebel group that has targeted Uganda from DR Congo since the 90s, many saw Kaweesi's murder as an inside police job, underscoring the infighting at the centre of his force.
It was the 12th high profile murder under Kayihura's watch but it was worse because it had claimed a central security figure and spread doubt and fear that a force that could not protect its own probably cannot protect much else.
Yet even before these fears could subside, a wave of terror spread outside greater Masaka in which gangs were raiding neighborhoods, breaking into houses, hacking people to death, leaving behind threatening leaflets and stealing property including money and cars.
Kayihura made arrests and reassured the public but a new crisis emerged. Criminals targeted women in Kampala suburbs--gruesomely murdering one by one until the total came to 23 murders all in a space of two months.
A long-running feud between Kayihura and Security Minister Henry Tumukunde has not helped matters. Suspects in police custody claimed that police agents were forcing them to implicate Tumukunde for the murder of Kaweesi.
And those under ISO custody claim they are being pressured to implicate Kayihura.
In the latest turn of events, the police officers under military detention and awaiting trial by the Court Martial claim they are being forced to implicate Kayihura.
There are many people willing to volunteer dirt against Kayihura. One of them is Special Police Constable Ali Kabanda, who was attached to the Flying Squad. In a May dossier Kabanda claims that his life was under threat because of his knowledge of the arrests and extradition of Rwandese refugees. He said that at the centre of these operations were Nixon Agasirwe, one of the seven facing trial, Baroza, who was Kayihura's aide and Ismail Baguma, who officials at CMI are also concerned about. Baguma, a Rwandan commissioner of police, is said to be a Rwandan attache at police but authorities say he is the best example of how Rwandan intelligence has infiltrated police under Kayihura.
Indeed Kabanda claims that in one of the meetings, Baguma introduced his team disguised as special hire drivers and boda-boda riders around the country. He said that they were members of Rwanda Patriotic Front (RPF), Kabanda claims.
He further narrates how they would arrest Rwandese nationals and hand them to RPF operatives at the Rwanda-Uganda boarder.
He also noted how the ISO boss, Col. Kaka Bagyenda, picked interest in him and claimed that President Museveni had directed him to protect him.
Amidst all this, Museveni was fed on report after report on Kayihura's alleged misdeeds and the police force's ineptness.
In fact, when in May this year, President Museveni renewed Kayihura's contract, it raised a few brows. But it cleared Kayihura to add on his 12 years as police chief, the longest in Uganda's history.
That is why for many, the trial of Gen. Kayihura's men is, indeed, much about something else and less than his inability to crack down crime.
The trial follows an investigation directed by President Museveni early this month and is being seen mainly intended to wrestle power from Kayihura who has been the linchpin of Uganda's security.
The most obvious pointer is that not only is the operation against police being driven by Kayihura's foes, it has targeted those closest to him.
The investigations into these charges have been conducted by Col. Abel Kandiho, who was appointed early this year in a major reshuffle of the heads of security agencies.
Kandiho was appointed at the same time Col. Kaka Bagyenda was appointed to head the Internal Security Organisation (ISO). Unlike past heads of CMI and ISO, Kandiho and Kaka do not kowtow to Kayihura.
Their appointment, together with the Security Minister, Lt. Gen Henry Tumukunde, was seen as intended to re-arrange the structure of the security system, away from concentrated power in Kayihura. And they haven't disappointed.
Tumukunde has publicly criticised Kayihura's work methods, Kaka has been investigating police and his men almost exchanged fire with police over access to a woman; Christine Mbabazi, who is alleged to have been Kaweesi's mistress and said information about his murder. With the latest investigation and subsequent trial, Kandiho appears to have delivered the decisive blow to Kayihura.
Col. Kandiho: New rising star
Before his appointment to head CMI last year, Kandiho was an officer under the office of State Minister for Defence in charge of Veteran Affairs.
With years of experience as military intelligence operative and formerly deployed under military police and the Joint Anti-Terrorist Task Force, Kandiho has ousted Kayihura in a heartbeat.
His first major operation was the hunt of the murderers of former AIGP Andrew Felix Kaweesi. Some of the suspects in the case were arrested by CMI.
But insiders say Kandiho's most successful operation in which he also overshadowed police was the hunt of the masterminds of the women murders around Kampala suburbs.
The investigation into police and the subsequent arrests appears to only have handed him a baton as the new kingpin of the security agencies in town.
His handlers say he is returning CMI to its former glory at the apex of Uganda's security system. The military intelligence outfit was last at the top in the late 90's to mid 2000's when it was headed by current security Minister Tumukunde and his then deputy the late Brig. Noble Mayombo.
Its influence crystalised in 2001 when Mayombo replaced Tumukunde as the outfit's boss. The outfit was not only central in cracking down on hard criminals and terrorists; it was at the centre of the politics and would hound Museveni's opponents. Indeed, Col. Kizza Besigye experienced his baptism of fire in opposition politics under Mayombo.
A staunch loyalist to Museveni, Mayombo would stop at nothing to protect the President's power. In 2001, Mayombo oversaw the brutal arrest of his younger brother, Okwiri Rwabwoni, at Entebbe airport in 2001 on his way to West Nile to campaign alongside Besigye. Mayombo would later be appointed Permanent Secretary, Defence Ministry before dying in what was feared to be a murder in May 2007.
After Mayombo, CMI was never the same. But the military kept at the centre of cracking crime. Indeed, Operation Wembley, which was born in 2002 and was the biggest crackdown on hard core criminals was a military operation. It would later become Violent Crimes Crack Unit (VCCU). By the time Kayihura became police chief in police in 2005, the force still lived in the shadows of its sister military agencies. And cracking Museveni's opponents and preserving his power was still their forte.
Top military commanders like Gen. David Sejusa, were the ones commanding operations against political opponents. Indeed, Sejusa commanded the 2006 siege of the High Court by the Black Mamba, a military outfit, to extract Besigye and other suspects, which the court had just given bail.
But having been sidelined for too long in the military, allegedly because he was seen as an outsider by most in the military establishment, Gen. Kayihura appears to have been determined to show his loyalty through police.
Slowly, he built the police into a dominant force through training, expansion, showing intelligence gathering prowess, and overzealously cracking down on Museveni's political opponents. But some of the methods he used, including introducing deep informal channels between the force and the underworld, have come to haunt him.
Kayihura established a police training institute at Kabalye and started churning out young officers who would soon become the centre of his power.
The old guard fought back but Kayihura's new recruits like Grace Akullo and Andrew Felix Kaweesi soon found themselves AIGPs. Kaweesi who made his bones training recruits at Kabalye soon saw his trainees became the commanders of almost all the strategic posts in police.
Kayihura also drew from the VCCU structure for hardened men like Nixon Agasirwe who he groomed into kingpins of police. Agasirwe was reportedly a hard core criminal arrested during Operation Wembley who offered to help fight criminals in exchange for immunity. He went on to become one of the most influential cops.
With agents like that and cash, by 2010, Police under Kayihura had risen to the pinnacle of internal security. As he expanded police, his budget grew at the expense of the other agencies. When Kayihura joined police in 2005, police budget was under Shs70 billion, it has since skyrocketed to over Shs400 billion.
But while Kayihura became more influential, his enemies in security circles and the public multiplied like germs in warm weather.
Soon enough, security agencies that are supposed to work with each other, started fighting each other. Initially, it was a cold war. ISO agents compiling files against police and police against other agents.
Kayihura gained more power when he brought down Gen. David Sejusa. Kayihura exposed Sejusa who was Coordinator of Intelligence Services and Senior Presidential Advisor to be using his office to collect intelligence against security installations in an alleged plot to oust Museveni.
In the same way, ISO in March this year released its first lethal report on Gen. Kayihura. It claimed that Kayihura was planning to announce his presidential candidature in Mbarara and led Museveni to deploy his Special Forces to block it. Nothing happened.
But with the death of AIGP Kaweesi, the attacks on people in Kampala and central Uganda and the murder of women, the other sister agencies piled pressure on Kayihura. The main accusation is that criminal elements under Kayihura bumped off Kaweesi.
Kayihura has also been accused of conducting investigations in the media by parading suspects who, critics further allege, are often innocent. The worst was the publicised case of the Kamwenge Mayor, Geofrey Byamukama, who was tortured in Nalufenya but released without charge.
As the CMI investigation continues, insiders say, they have more details of the rot in police under Kayihura's watch. For now, that the first case is over extradition of Rwandese speaks volumes about what the actual problem could be.