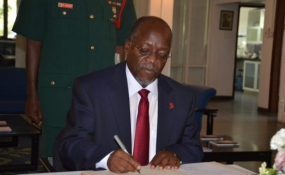 Photo: Daily News
By Sauli Giliard
President John Magufuli celebrated two years in office yesterday amid enumeration of great achievements, particularly in the provision of social services.
Dr Magufuli who was sworn in to occupy the Magogoni office on November 5, 2015 has most of the achievements credited to his cost cutting measures and fierce war he has waged against graft.
The ban of foreign trips is among the immediate bold decisions that President Magufuli took immediately after assuming office. The move has so far saved over 400bn/-.
According to Information Service, MAELEZO, Director General and Chief Government Spokesperson, Dr Hassan Abbasi, the government spent 216bn/- in the 2014/2015 fiscal year on foreign travels.
Taking the 2014/15 as an average, President Magufuli's administration would have spent 432bn/- in foreign travels during the past two years. But, only 25bn/- was used during the two-year period.
Cost cutting and war against graft have enabled the government to save funds for various development projects and delivery of social services like increased budgets for loans to higher learning students and medicine supplies to 427bn/- and 261bn/-, respectively.
The government spent only 49bn/- in 2015 as loans to students while 30bn/- was used in procurement of medicines.
Detailing the 10 major achievements in the first two years of the fifth-phase government, Dr Abbas told reporters in Dar es Salaam that the government bold decisions have boosted revenues collections from 9.9trn/- in 2015 to 14trn/- in 2017.
"The impact of this increase in revenue collection is vivid in the health sector... the government has constructed 268 health centres and offered fee-free education from primary to secondary school levels in the two years," said the spokesman. He said the government currently spends 23bn/- monthly in provision of fee-free education, thanks to increased tax collections and anti-graft war.
Deletion of fake certificate holders and ghost workers in the government payroll has also saved money for the government to improve key public sectors. Dr Abbas said the crackdown against phantom workers saved 238bn/-, with fake certificate holders freeing 142.9bn/- in salaries, bringing the total to over 380bn/-, which has been channelled to development.
"Unnecessary foreign trips have been banned... in two years, I have travelled abroad only two times and all these travels were inevitable," said Dr Abbasi.
He further said the change in mindset of civil servants and increased accountability in public offices have improved, thanks to fight against bribery and government's resolve for efficiency in service provision.
President Magufuli has introduced the special court for grand corruption cases, with three cases of economic sabotage already on trial.
Other areas that the government has scored impressively are in reforms in management of natural resources to benefit the ordinary citizens and improve the country's economy.
Dr Abbas said major reforms are anticipated in Diamond and Tanzanite, saying: "Since the government intervened in the mineral sector, productions of diamond has increased from between 15,000 and 18,000 crates to 28,000 and 32,000 crates."
On infrastructures, the government has in two years built 1,500 kilometres of roads worth 1.2trn/-. The government has also allocated 1.9trn/- from its domestic sources to finance construction of the ambitious Standard Gauge Railway (SGR), the historical project in the two-year reign of President Magufuli.
Construction of multibillion water projects in Arusha and Lake Victoria continue under funding of mostly Tanzanian taxpayers. The fight against corruption, academic forgeries and ghost workers has created more jobs for Tanzanians and the government plans to employ 52,000 servants in various sectors.
The newly launched industries in Mwanza indicate that the government will succeed in its drive to industrialise the economy.
Dr Abbas assured that by next year, all ordered planes would be in the country, reaffirming the government commitment to revive the aviation industry to boost tourism. President Magufuli is also determined to realise the dream of Father of the Nation Julius Nyerere to shift the country's capital city from Dar es Salaam to Dodoma.
In the last two years, several government institutions have already shifted their offices to Dodoma. Power projects have been executed speedily, with the extension of Kinyerezi I to produce 185MW expected to feed the national grid by November next year, increasing power availability.
Dr Abbasi said construction of Kinyerezi II project is in final stages, with 84 per cent of works completed. Its first turbine to produce 30MW will be switched on next December.