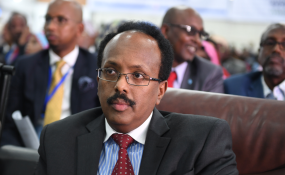 Photo: Ilyas Ahmed/UN
Lengthy talks between the Federal Government of Somalia and the regional administrations in Mogadishu have been concluded with final joint communique.
Somali President Mohamed Abdullahi Farmajo has convened the key consultative meeting at the hill-top Presidential Palace in Mogadishu. It began 29th Oct and ended on Nov 5.
Among the issues dominated the week-long forum include Politics, security, SNA rebuilding, Federal affairs, and the review process of the provisional constitution.
The leaders of Jubbaland, Southwest, HirShabelle, Galmudug and Puntland have participated in the prolonged meeting that led to reaching a deal on main issues.
The Federal Members states and central government of Somalia have been at loggerheads in the past few months due to a division on the Gulf diplomatic crises.