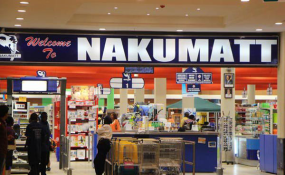 Photo: Daily Monitor
By Titus Ominde
Tusker Mattresses Limited (Tuskys) has confirmed plans to aid the recovery of Nakumatt Holdings through a strategic restocking programme.
The programme, which will be undertaken gradually, is mutually exclusive of the ongoing legal processes geared to offer a platform for Nakumatt ahead of a proposed corporate merger; subject to regulatory approvals.
Speaking when he confirmed the restocking programme, Tuskys CEO Dan Githua described the initiative as a strategic corporate nursing exercise.
The restocking is being undertaken in conjunction with leading retail suppliers as part of a mutual commitment to support Nakumatt's recovery, he said.
RECOVERY
The programme, Mr Githua added, has been structured to facilitate the rapid recovery of the retailer as part of a home grown process to sustain its operations and mitigate systemic risks to the local formal retail sector.
The first phase, the CEO said will feature restocking of seven key branches in Nairobi and Mombasa. Already, Tuskys has facilitated the restocking of Nakumatt Village Hypermarket and Ukay in Nairobi before moving to Eldoret and Nakuru.
"This exercise will be stepped up through the month of November and into the festive season with the support of key suppliers," Mr Githua said.
He hailed suppliers for their cooperation and for embracing the move.
Key suppliers supporting the restocking include Unilever Kenya, Aquamist Water, Mjengo Limited, Bidco Africa, Jackys Limited, Proctor & Allan, Aspendos Dairies and Brookside Dairy. Other suppliers are Kevian Kenya, Mill Bakers, Gal Baking, DPL Festive and Kapa Oil Refineries among others.
In September, Tuskys and Nakumatt jointly confirmed that there had been confidential discussions aimed at exploring potential options for synergies, co-operation and business integration between the two family-owned retailers.