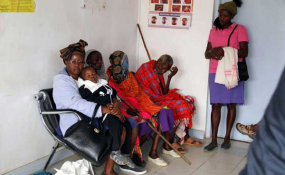 Photo: George Sayagie/The Nation
By Aggrey Omboki
The Kenya Medical Practitioners, Pharmacists and Dentists' Union (KMPDU) has criticised the decision by the Health Cabinet Secretary to suspend the new rules issued by the National Hospital Insurance Fund (NHIF) regarding outpatient services.
In a comment made on his Twitter handle, Secretary General Ouma Oluga termed Dr Cleopa Mailu's decision "as bad as the NHIIF's four visit rule".
Dr Oluga further accused CS Mailu of making the decision unilaterally.
"That the CS can unilaterally make a decision on NHIF is as an accountability problem as the four visits per year directive."
DECISION-MAKING
Dr Cleopa Mailu on Saturday blocked the rules from being effected, attributing his decision to "public outcry".
NHIF chief executive officer Geoffrey Mwangi had on Friday announced that contributors will only be entitled to four visits to health facilities per year.
POOR FAMILIES
This creates the prospect of poor families being forced to pay out of their own pockets for extra visits to health facilities.
However, civil servants and private sector employees in schemes where their employers adds to their monthly contributions were spared the brunt of the cutbacks, with unlimited outpatient access of at least Sh100,000.
CONSULTATION
Dr Oluga accused the government of not involving other health stakeholders in making of decisions.
"The reason why there is a widespread lack of acceptance of the NHIF decision is [because there is] lack of stakeholders' consultations.
"....It is time the insurer engaged both the consumer and the health care provider as they are the ones who know if they can provide required services as per the stated fees," he said.
OUTPATIENT VISITS
In a move that has brought the apparent disconnect between the state insurer and the executive into sharp focus, Dr Mailu dismissed the directive pending consultation.
"The Cabinet Secretary for Health Cleopa Mailu has suspended with immediate effect the decision by NHIF to limit the outpatient visits to only four per year until further notice.
"This is until further consultations are held between NHIF board and other stakeholders.
"Meanwhile, patients should continue with the services as it has been the case before," he said in a press statement.