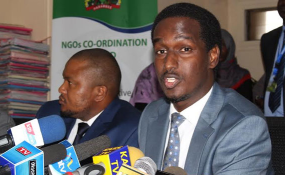 Photo: Capital FM
Civil society organisations have vowed to ignore summons by the State regulator over claims of non-disclosure of their financial returns.
Officials of Muslim for Human Rights (Muhuri) and Katiba Institute on Monday said they would not appear before the NGO Coordination Board as the accusations were baseless.
3 OFFICIALS
Muhuri's Chairman Khelef Khalifa said his organisation had filed all tax returns up to 2016 and challenged the board to take the matter to court.
"All these allegations... I don't know what they are talking about," he said.
"We are not going to attend at all. We have filed our returns so they can do whatever they want to do. We have all the documents."
Mr Khalifa was speaking at a press conference in Nairobi, where he was backed by five other civil rights organisations under the banner of 'Kura Yangu Sauti Yangu'.
In Mombasa, Muhuri's chief executive officer Hassan Abdile, who was among three top officials summoned, said they cannot go before the committee while accusations against them were vague.
"We have instead asked our legal officer to write to them (the board) asking them to verify and tell us in detail what they are accusing as for. I am among those summoned and as you can see I am here with you. I have not gone anywhere," said Mr Abdile during a press briefing organised by Coast civil society forum at the Kenya National Commission on Human Rights (KNCHR) offices in Mombasa.
SCHEME
On the other aside, Katiba Institute board member Father Gabriel Dolan said the group had chosen to ignore the summons as they were clearly a scheme of intimidation by the Mohammed Fazul-led board.
"We have decided as a board to completely ignore this. For your information, Katiba Institute is not an NGO and Fazul has no right to summon it," said Fr Dolan.
"We have seen that the officials have been summoned during this time as it is very deliberate to frustrate the organisations."
The organisations said the summons were part of a larger scheme by the government to intimidate its critics.
'NOT' NGO
Lawyer Lempaa Suyianka said the Institute is not an NGO and therefore does not fall under the Non Governmental Organisation Coordination Act, where the board draws its mandate from.
Mr Lempaa attached to his letter to the board a copy of the institute's certificate of incorporation.
The certificate shows the institute is a registered company limited by guarantee and it received its certificate of incorporation in June 2012.
"The institute would like to be furnished with more information as to the sources of the complaint that forms the basis of your accusations. We believe that under Article 35 and the Freedom of Information Act, we are entitled to the said information," Mr Lempaa says in the letter.
EMAILS
Africog Chairman John Githongo, who was present at the Nairobi briefing, dismissed claims that the civil society is working in cahoots with the opposition to frustrate the government.
In three separate sets of communications, the board, through its Enforcement and Compliance Department, emailed the summonses to the three civil society organisations and directed them to appear before it Monday without fail.
Mr Fazul claimed the organisations had not filed "the true reflection" of their finances in their returns for the past two years, which he claimed also raised an eyebrow with the Central Bank of Kenya and the Financial Reporting Centre.
"It would seem that your organisation has not been filing the true reflection of your finances which, therefore, raises doubts as to what other activities you are involved in," said Mr Fazul.
He added: "Further to this, you must be well aware that furnishing the government with false information constitutes a penal offence punishable under the penal code."
Reported by Ibrahim Oruko, Valentine Obara and Mohamed Ahmed.