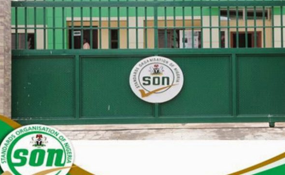 Photo: The Guardian Nigeria
By Alo Abiola
Ado-Ekiti — The Ekiti State office of the Standards Organisation of Nigeria, (SON) has destroyed different manufactured goods and products worth N4.5 million lacking in quality and set standards.
The fake and substandard products destroyed and burn by the agency included, tyres, expired cereals, packaged snacks, detergents, soaps, bottled wines, soft drinks, fruit juices, electrical and electronic appliances such as television sets and cables as well as substandard LPG Cylinders.
Speaking while supervising the exercise in Ado Ekiti, the state capital, at the weekend, the SON coordinator in the state, Mr. Ayeni Oyebola said the destroyed products were seized from their distributors and sellers in different parts of the state after failing quality assurance test carried out on them.
He disclosed that no less than 100 shops had earlier been raided by the staff of the agency in conjunction with security agencies at various times and different locations across the state following tip-offs by patriotic members of the public and sustained surveillances of staff.
Oyebola decried that most of the seized items had fake company name, fake brand name, fake country of origin and imaginary expiry date embossed on them at the expense of consumers' safety.
He said apart from blacklisting the distributors of such items, the agency was also on the trail of the real manufacturers and their other collaborators, as they would be made to face the full weight of the law, in addition to paying penalties ranging between N500,000 and N3 million, depending on the volume of their committal, including cost of destruction as well as risk arrest and prosecution.
The SON boss, who described the burnt items as "life threatening products", said most of them had either expired since over three years ago, or are entirely fake, while they were fraudulently labeled as being newly made and kept on the various supermarket shelves for unsuspecting residents to buy for their family consumption.