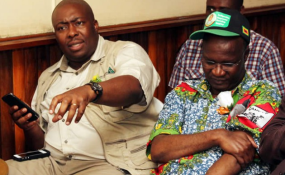 Photo: The Herald
FIRST lady Grace Mugabe has again defended Zanu PF political commissar Saviour Kasukuwere and Higher Education minister Jonathan Moyo, claiming they were being persecuted for challenging vice president Emmerson Mnangagwa over his "misplaced" political ambitions.
Kasukuwere and Moyo are leading members of the G40 Zanu PF faction which has the support of Grace Mugabe and, it is widely, her husband President Robert Mugabe.
G40 is determined to stop Mnangagwa taking over from the 93-year-old President Mugabe, preferring instead defence minister Sydney Sekeramayi.
Moyo is under probe by the Zimbabwe Anti-Corruption Commission (ZACC) for abuse of money from the Zimbabwe Manpower Development Fund (ZimDef) , while Kasukuwere received no confidence votes from the ruling party's 10 administrative provinces on accusations creating parallel structures to topple President Robert Mugabe.
However, the First Family defended Moyo and Kasukuwere with the no confidence votes against the latter ignored.
The First Lady said Saturday that the two were more victims of political persecution than criminals, adding that Mugabe had long written to ZACC advising the commission that the ruling party was satisfied with Moyo's explanation regarding the ZimDef fraud allegations.
"The President has instructed for a letter to be written to ZACC ... we don't want people who abuse their power. I am first lady but I don't want to use this position to oppress others," she said to a jeering crowd at the Bulawayo youth interface rally.
"Throughout there were demonstrations to say Kasukuwere must go. President ordered an investigation and the reports that came were silly. He did nothing.
"Kasukuwere works for the party. The only problem is he says to vice president Mnangagwa down with factionalism it divides the party period!"
According to the First Lady, Mnangagwa is set to lose the vice presidency post next month during a ruling party special congress.
She insisted that it was time the vice president paid for fanning factionalism in Zanu PF and sacrificing others in his ambitions to succeed President Mugabe.