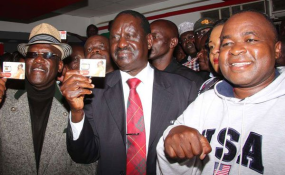 Photo: Kanyiri Wahito/The Nation
By Samwel Owino
The Nasa leadership has defended the call for boycott of products from companies they claim are supporting the Jubilee government.
The leaders said the move was a means of addressing electoral injustices in the country.
National Super Alliance co-principal Musalia Mudavadi denied claims the boycott call was a witch-hunt of the three companies listed.
AIRTEL
The opposition, he said, sought to prevent the subversion of the people's will during elections.
Opposition leader Raila Odinga led Nasa MPs in buying Airtel SIM cards at the mobile operator's shop on Koinange Street in Nairobi.
Mr Odinga arrived at the shop at exactly 4pm and left after 10 minutes with his Airtel line without addressing the media and a handful of supporters who were waiting for him outside.
ELECTION
The opposition leader has not publicly made a statement regarding the boycott since it was launched on Friday but promised to do so this week.
"I am aware that the National Resistance Movement of Nasa launched an initiative that is causing ripples across the landscape and some of you would be keen to hear my views.
"I promise that you will get my views on this matter very soon," Mr Odinga said on Saturday at Serena hotel.
Mr Mudavadi, who later addressed the press, said the boycott would "teach a lesson" to companies who subverted the will of the people in the August poll.
"Nasa did not subvert the will of the people on August 8. For how long will we continue to sweep issues under the carpet? This is the time and we must get it right," he said.
SAFARICOM
The opposition parliamentary wing of the National Resistance Movement on Friday launched the boycott of products from Safaricom, Bidco and Brookside.
Nasa accused Safaricom of aiding rigging of the elections in favour of President Uhuru Kenyatta, a claim the firm has denied.
The coalition has also accused Brookside and Bidco of funding President Uhuru Kenyatta's Jubilee Party and, therefore, being part of a regime stifling democracy.
EMPLOYMENT
The Amani party leader also dismissed concerns raised by Safaricom dealers that more than one million jobs could be lost due to the economic boycott.
"This is still the same economy, people are just moving from one company to another, which can still create the same jobs," Mr Mudavadi said.
Nominated MP Geoffrey Otsotsi said opposition-allied MPs will soon embark on outreach programmes to tell their supporters to completely boycott products from the three companies.
"The effect of this boycott will be felt very soon," he said.